Zante Beaches

Kalamaki Reviews
---
Zakynthos Guide
---
Local Directory
---
WalkAbout

Street View Style Tours
---
Zante Maps
---
Kalamaki Taxis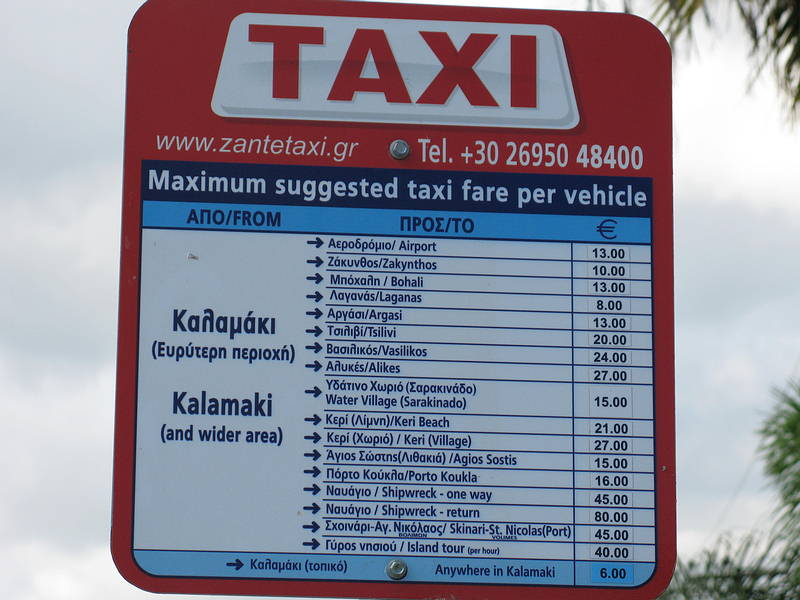 ---

+ Enlarge Map
Tasos Villas

(Accommodation in Kalamaki)

10/10
Sue S
Just got back from another stay at Tasos villas, for two weeks this time, was perfect again. Was so useful having a washing machine I did all my washing before I came home so

didnt have to spend the first few days washing and ironing. The family are wonderful people, kept giving us bottles of their own wine, when the fruit shop in the garden opens in June they ofter give fresh fruit as well.

Try it, 2 bedrooms, a bath, washing machine, fridge freezer and a mini oven (which never got used) real home from home.

we will be back...............
10/10
Elizabeth J
Addd your comment here

F-A-B-U-L-O-U-S need I say more..................... Sue & Martin ps cant wait to go back

next year
7/10
Barry S

Very friendly owners who say good morning - Kalimera - to you everyday!

Standard of accommodation was average however cleaning advertised as every other day only happened once for us and that was only after asking! Good job we took extra rubbish bags!

Location was excellent as I have two girls who love to swim in the sea and it was only a two minute walk and on the days we didn't feel like going to the beach there was always John and Joys hotel with a pool and bar next door. It was also located near to all the tourist shops and restaurants with a very good Iguana bar a two minute walk away with plenty to do for the kids and enough t.v's for everyone!

10/10
Julia B
What fab villas. We got back from Zante on the 21st May 2007. We found out about the villas through my parents Susie and Keith Tanner, who stayed at the villas last May and September (2006). This was our second trip to Kalamaki. The first time in May 2006 we stayed at the Hotel Venus just up the road but spent most of our time at the villas with my mum and dad which is why we booked the villa this year. The villas are very spacious and kept very clean. Our son loved being able to run around the balacony and through the doors into different rooms. The villas have everything you could need ie, washing machine, kettle, toaster, mini stove and a very handy welcome pack. The only thing I would say would come in handy is a microwave. Tasos is a lovely bloke and his family took good care of us. His mum and dad are lovely. They don't speak a word of English but some how we all understood each other. His mum kept us stocked up with fresh eggs which my son loved and his father kept us stocked up with his homemade wine and gave my son numerous rides on his tractor which he thought was great. Anna (Tasos sister) owns the shop across the road and her and her family are delighful and made us feel very welcome. (Anna I promise to let you know if my bump was a boy or girl in August). The beach is under a 5 minute walk one way and the main strip just over a 10 minute walk the other direction. We used John and Joy's pool a few times which was very handy but I do agree getting in and out of the little pool is a little hardwork at times. I can't wait for our next stay. Thanks for a great stay.

Char H

stayed in these villas last year aswel... and i love them!!!! tassos and his family and friends are amazing and i need to say a massive thank you 4 lookin after me and coming to see me after my accident!!! especially anna who works in the shop across the road for organising me a wheel chair and cruches for my leg!! i honestly dont know what i would have done without you!!!

coming back next year so see u then byeee and thank you xxxxx
Ellis M

haha its all halletts signin this coz no one else gets a chance to have tasos villas the halletts are hogging them lol well they r well nice villas miss the goats lol but they well smelt haha hopefully ill be goin bak next year with the halletts luvin it mwah x x x x
Georgia H

Omg we went there last year and had all the villas to the hole family. its really nice and im going there again tomorrow for 3 weeks.!! everything about its great!! im so exsitted to be going there again. its so good!

Lynda H

We stayed at Tasos Villas in August this year. We had all three Villas for our family and had a wonderful holiday. The Villas are clean, spacious and have washing machine, air con and iron. With only a few minutes to beach and 5 minutes to nearest restuarants etc, quiet but with everything close to hand. My three year old loved feeding the goats! and loved eating the fresh melon from the fruit shop. The one thing I must disagree on other postings is that the pool at John & Joys is't that great for young children, the small pool has a big step to get in and there are alot of loose slabs on the floor. We found a lovely pool at the Pelouzo Hotel, which only opened in May of this year, it was very quiet, relaxing, not very busy at all and was extremely safe for the little ones. The staff were also lovely. I must just mention Tasos and his lovely family, very helpful and generous. Thanks to them for a lovely holiday. We'll be back next year. Has anyone who has been here noticed any wierd activity?

Char H

Silly me ay!!!!! i forgot to do the location quiteness and cleanlisnees thing hehe blonde moment!! there u go all better
Char H

hiya!!!! tasos villas are imacualte!!! they are soooo clean its unreal!!! we had the best 2 weeks there they are spacious with air con!!! a washing machine and a iron!! the kitchen facilities were far better then what you would get in a hotel!! anything you want (we asked for a barbeque ) well actuali we asked were we could get from, and tasos got us one and the food to go on it aswel!! it was fantastic!! he is a really genuine bloke, fresh fruit sop opposite along with a little shop, the beach is not even 5 minutes down the road and john and joys hotel is even closer! for the use of the pool!!!

greatplace were trying to get booked p 4 next yr!!!! bye for now xxxxx
Hazel D

Just want to say a big thank you to sinead and tassos for your fantastic villa, we are hopeing to book a villa with you next june for 4 adults.
Hazel D

Tasos villa are great, the are spacious and good location and with washing machine, steam iron, air con, they are a must, they are clean and right next to John & Joy hotel which is great as they have great pool and bar snacks.

The only thing that needs to be better is the hot water for showers, we found that couldnt always have hot showers, hope they are sorted for next year as we will definately be going back...
Hazel D
Erin G
This is the 2nd time staying at Tasos Villas and it was brill.
It is a 5min walk to the beach and every body is so frendly.

Roger, G
Our second visit to Tasos Villas and it was just as good as we recalled. Even not getting back into villa #1 could detract from the wonderful feeling of peace and relaxation. The family are just so friendly and having the little shop across the road is a real bonus. Yasoo to all and we hope to be back very soon. Have to end with a word about the "singer" in the hotel half a mile up the road. It was the onlt loud interuption we had and the bloke was so bad it was funny!!! Quiz question (it took us an hour to remember) who sang "Love is in the air"?
Paul S
Wonderfull place to stay. Tassos is a good fella,made you very welcome.Highly recomended, will return asap.
Roger, G
And one (or two ) final words. Buggy pushers, take a torch. Pleny of beds in the locality. e-mail us if you want details
Roger, G
Sorry, it was all excellent. Better. Ycellent in fact.
Roger, G
This holiday was just perfect. To prove it's not a setup we'll mention the washing machine. But.... Next year, we'll be looking forward to the views, the friendly people who are just sooooo nice, the quality of a superb villa, the loaction and everything else that goes to make Tasos Vilas just THE place for us. But hey, we should'nt be telling everybody else, we might not get booked for 2004. Mant, many thanks to Tasos, his family and Sinead. Merry Chirstmas and here's to a good 2003.
Mike P
To answer the two questions below; If you have a two year old I would definitely take a buggy. Mermaids is a good 15 minute walk with Chaos, Al Sandros etc being 20 -25 mins depending how much you drunk!! The nearest accommodation to the Villas is; Denny's Inn, Hotel Venus, Hotel Exotica there are some private Villas close by but these seem to be rented by greeks.
Can U Help?
Karen L
Can any one tell me the nearest accomdation to the Villas, apartments or Hotels.We are staying at the Villas next Year,but we need further accomadation near by. Thank-you karen lewis
Can U Help?
Andy
Can anybody tell us how long the walk is from Tassos Villas into the main part of town. What is the walk back in the dark like? We have a two year old and want to know if we'd need to take a buggy. thanks
Mike P
An excellent place for a holiday, very friendly owners who provided some basic essentials on arrival (milk, bread, oj, 6 ltrs water, honey). Rooms were spacious and airy you could hear the see lapping against the shore. So close to the beach but if you have vet small children it can be a walk to some of the restaurants and bars.
Kate M
Excellent holiday. Apartments very clean and spacious. Owners very helpful and friendly. Close to excellent beach which is very safe for young children and I would recommend John and Joys Hotel for a great pool and lovely lunches. Downstairs apartments very safe for children but upstairs have the lovely sea views and breeze. Try 'Escape' for a very good Mousacka and Greek Salad. FIRST CLASS *****
Barbara S
we went to Tassos villas beginning of June. Brilliant apartments. I cannot rate them highly enough. Everything you want and more. Very near the sea and two hotel pools. the people who run them are so helpful. If you are looking for clean, spacious, top notch accommodation at very reasonable prices then do not look any further. I am definitely going back next year.
| | |
| --- | --- |
| Search for Tasos Villas in all of JustZante & the Messageboard | |
More Hotels and Apartments in Kalamaki...

Aeolos Resort | Amaryllis Hotel | Anagenessis Village Hotel | Antonis Apartments | Asteri Studios | Athina Apartments | Bitzaro Grande Hotel | Bitzaro Palace Hotel | Caretta Beach Hotel | Cavo Doro Hotel | Costas Hotel | Cronulla Hotel | Crystal Beach Hotel | Daisy Apartments | Dennis I and II | Dennys Inn Hotel | Dias Studios | Dina Studios | Dionysis and Tonia Studios | Exotica Hotel | Garden Village | Golden Sun Hotel | Ionian Blue Hotel | Kalamaki Beach Hotel | Kalidonio Studios | Klelia Hotel | Louros Beach Hotel | Macedonia Hotel | Marelen Hotel | Meandros Hotel | Metaxa Hotel | Muses Villas | Nadia Studios | Plubis Studios | Rainbow Apartments | Roseland Hotel | Sea View (Caretta) Hotel | Sirene (Dollas) Hotel | Sirocco Hotel | Sofias Hotel | Star (Caretta) Hotel | Tasos Villas | Two Brothers Studios | Vanessa Hotel | Venus Hotel | White House Apartments |