Zante Beaches

Kalamaki Reviews
---
Zakynthos Guide
---
Local Directory
---
WalkAbout

Street View Style Tours
---
Zante Maps
---
Kalamaki Taxis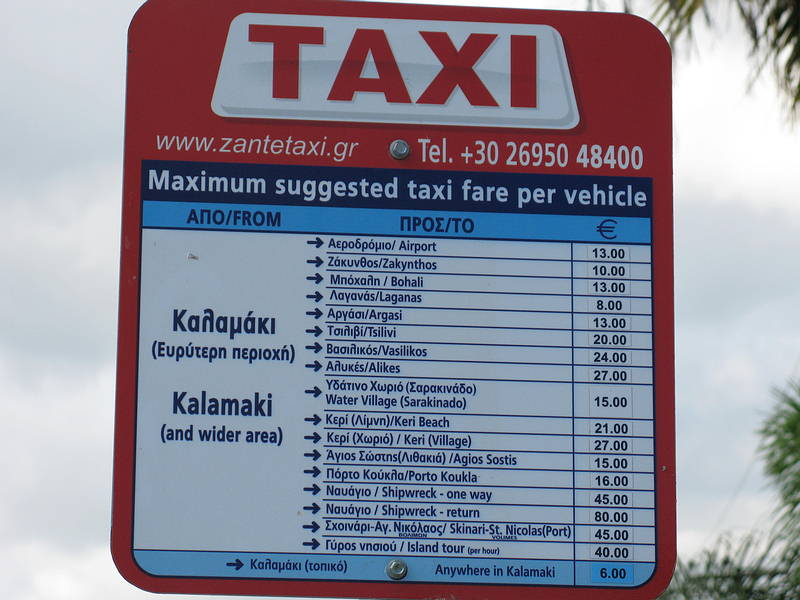 ---
Kalamaki Buses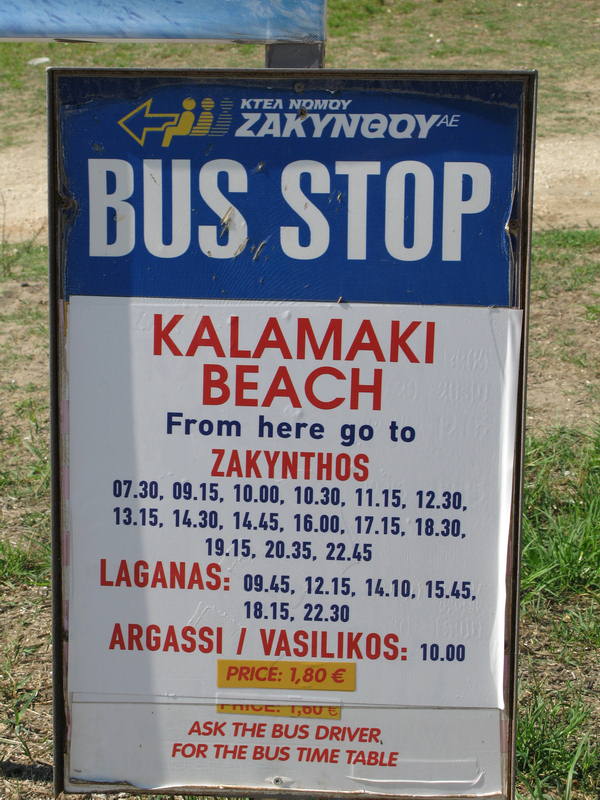 ---

+ Enlarge Map
Golden Sun Hotel

(Accommodation in Kalamaki)

3/10
Pauline M
Add your com We had a really good time, The Sun hotel is fantastic,good food. Very lovely staff,you only have to ask and they will help you We will definately go there again.(by the way i took a hairdryer)(no need to) Take a addapter)The holiday will be 100%
8/10
Tony S
Just spent a week at the Golden Sun Hotel. Cannot fault it, all the staff were very helpful the food may not be the best in the world but you can always eat at one of the many restaurants which are well within walking distance.The beach at Kalamaki is excellent and is only 5 minutes walk away.We were told about the noise of the aircraft landing and taking off but after the first half dozen you tend not to notice. So all in all I will certainly be going back there again next year.

9/10
Madge S

got back from staying in the golden sun 30th sept 2010,

we were a party of six, and all of us were pleased with hotel, the food we thought was lovely, although there was a welsh family who complained about it lots, not to hotel but to other guests. pool area and gardens are kept really nice. we drank at the hotel bar everynight, but tried the marylene hotel acroos the road one night, we didnt like the drinks there so didnt go back. mikka on reception is superb, jiannis and themo and dorothy in restuarant are lovely, and lawrence ( aka jimmy to us lot ) was funny and friendly. nikos the owner kindly gave us a bottle of lovely ouzo to bring home ( nice touch ). plane noise we were informed about at time of booking and we quite enjoyed getting so close to them, although sometimes it was a wee bit early in the morning

. all in all ,i would recommend hotel golden sun, and i hope to be back in the future.

9/10
Jackie D

I have just come back from a holiday to Zante where me and my partner stayed in the Golden Sun Hotel for 12 days.

Before leaving for our holiday I read some of the reviews for the Golden Sun Hotel and was immediately worried that the accomodation was going to be really bad. The reviews couldn't have been more wrong! The hotel was cleaned to high standards, the pool was immaculate, the rooms were basic (which all rooms in hotels on any greek islands are) but comfortable, the staff were great and always helpful and the food was always varied and lovely. I couldn't believe our luck at how nice it was. The only problem we found was the noise of the planes but as other people have advised - you get used to it.

We enjoyed every part of our holiday and have said we will be going back to Zante in a few year - we will definately be staying at the Golden Sun again and would recommend it to friends!

3/10
Caretta L

We went here in July 2009 for 1 week and were thoroughly disappointed after reading some of the great reviews on this site.

This hotel sucks so much that I can not understand how it can be a 3 star

. The beds were hard as rock and the pillows were horrible. Me and my husband got two single beds smashed together with a big gap in between

. The bathroom floor was constantly wet as there was no proper shower or shower curtains. They dont provide shampoo, body wash or soaps for any day except the first day. When we asked for soaps the next day we were told that they only provide welcoming shampoo of 10ml!

We have never been to a worse hotel than this. The breakfast menu sucked.

I can understand the nearby beach closing at 7pm everynight for turtle breeding but I fail to understand why they need to close the hotel swimming pool at 7pm as well

.

And everything in Zante is over-priced to beyond ridiculous for tourists. So haggeling is necessary.

We wanted to rate it as zero but we give it a 3/10 because of great view and friendly staff.

This hotel is recommended for : no-one, if you can - get somewhere else.

9/10
Jade T

My friend and I have just returned from a weeks stay at the hotel and it was great. The rooms were nice, very clean and had everything you need. The pool was very nice and the gardens surrounding the hotel are great. We had maid service in the rooms everyday and felt very well looked after. All of the staff at the hotel are very friendly and welcoming. Danny who works in the restuarant is very friendly, he makes the effort to talk to everyone and provides good service. The food at the hotel was quite good as well, there was not a huge choice but im very fussy and found something to eat everyday. They also have a pool bar which serves snacks throughout the day. The snacks were nice but a bit on the pricy side. If you walk in to the centre of the resort which takes about 10 minutes you can find a range of places offering snacks at half the price. The hotel is in a nice location about a 2 minute walk from the beach, 10 minute walk from the main resort area and about a 40 minute walk from Laganas by road and beach. There is a on site supermarket which is quite small but has a few things available but there is also another supermarket about a 3 minute walk away at the top of the road and that has a lot more on offer.

Also the hotel is at the end of the runway and very close to the airport so there is a lot of planes that go over the hotel. They only fly in the day time tho, there is no night time flights and it is not too noisy. After the first day you dont take any notice.

The only thing that we found crazy was the bath did not have a shower curtain and there was no hook to put the shower head on to so the bathroom got quite wet.

Apartfrom the shower issue I could not find anything wrong with the hotel and would defitnley go back again and would happily recommend it to friends.

10/10
Kerry W

Just returned from my second year running at the Golden Sun. I can't rate this hotel highly enough for helpfulness. I suffer from MS and my mobility is very dodgy at times. This hotel has lots of ramps and happily allocates ground floor accommodation or rooms near ramps when requested. I emailed well in advance on both holidays to arrange a fridge in my room for medication and it's always there waiting for me on arrival. The receptionist even took my suitcase to my room for me. The staff were brilliant even though they looked slightly confused on days where I could walk quite well. That's MS for you!

The breakfast was suitably varied on a continental theme, don't look for a full English here, enjoy the Ionian and tuck into some glorious fresh fruit and freshly baked rolls! The rooms are basic but comfortable, the grounds are beautifully landscaped and the pool area is really lovely. It's close to the beach and Kalamaki Taverna, close enough to the main street in Kalamaki for night time revelling. I understand that there will be a full refurb over the winter so who knows how great it will be next year. Thank you to all the staff at the Golden Sun for making our holiday so relaxing.

Mike F
just back from 2 weeks spent at the golden sun. we had our 24 month old with us, following the previous comment we took a travel cot with us, but we need not have bothered as a cot was provided at no additional cost. we were please to get a large double bed too, but had to spend 2 weeks 3 in a bed in the end.

hotel is great for young families as it is pretty quiet and very close to the beach, which is excellent. the is a kids pool but it was a little too deep for our child to go in alone. there are also a few swings and slides, but again you need to sup**vise as they are not up to uk standards.

the main pool is quite quiet, and there is a relaxing atmosphere about the place. the rooms were what you would expect, although the bathrooms are small. you do get a bath and there is always plenty of hot water. the room was serviced every day and the whole place was clean and in a good state of repair from what we saw. the only slight problem we had was with tiny ants in the room, these we not too bad so long as you made sure there was nothing for them to eat around. if you forgot they soon told thier mates!

breakfast did become monotonous, but there was plenty of it and you could have as much as you liked.

the only extra we payed for was a safety deposit box which cost 30euro for 2 weeks. it costs 5euro for a taxi to anywhere in kalamaki and 8euro to laganas.

dont pay for a coach transfer from the airport as a taxi is only 10euro each way, it would have cost us £60 with thomas cook, from experiance we know they take you on a tour around other drop offs on the island so you dont feel so ripped off, so you pay a fortune for a journey you could walk quicker.

as for the jets coming past the windows, lets just say our 2 yr old could recognised 3 different airlines by the tiem we left.


Alan M

Just returned from 2 weeks at the Golden Sun Hotel. Share the comments of others regarding the breakfast never changing and about the excellent service of Anastasia and Nevine (who is going back to Bulgaria next week to continue her University studies. Concerned though about hidden charges others should know about before going. Air conditioning only on twice a day at times not normally in the room. If you want it on longer you pay 6 Euros per day. No fridge but can rent - 6 Euros per day. Foam mattress for the sunbeds - 1.50 Euros per day. Met a London couple with a 14 month old baby andthey had put a spare bed in the room which is free. When they asked at the reception for a cot - 6 Euros per day. Besides these extra costs the hotel is comfortable, clean and the pool is excellent - providing there are no noisy Italians staying, they can get a bit loud.

Ruth P

Lovely hotel, very clean,rooms a bit on the small side but nothing too bad.Very close to airport so get used to the planes but airport shut at night so mostly aircraft noise during day.

Poolside bar good but not that varied on the menu

Nice and quiet for families, couples singles or older people.

Lots of nationalities stay here so prepare to mix with Swedes, Germans, Swiss, Italians, Greeks,Arabs and many more.

Only downside was that breakfast needed a bit of improving with not much variety
James T

The golden sun is a beautiful, clean hotel pretty much as close to the beach as you can get.

The rooms are superb, The pool lovely, The bar great for a nightcap.

Many thanks to the folks working here who made my stay brilliant. Anastasia, Athina, & Nevin on reception are just so friendly (And very beautiful

!), Theo behind the bar mixes some superb drinks and keeps you amused.

Brilliant, everyone should go, it's great

Ellie K

We stopped here the begining of May for 2 weeks. We loved it. The pool and grounds were really well looked after. We didnt drink in the bar on the evening as although the bar area was lovely with big leather chairs it looked a little to not lived in. We were worried we might get it dirty. Not a problem though as we went to The Meralyn every night were there was always somthing going on.

The only one thing I would add was the American girl behind the food bar although very friendly was sometimes a bit over the top.Buy the end of lunch on the odd occasion we ate there our ears were ringing. We mostly went to Kalamaki Beach for lunch which was great.

Ive noticed a few moans on here about the breakfasts. We found them fine. Of course they a similar each day but there were lots of fresh bread etc so nothing to moan about

John &
Well just come back from the golden sun Hotel, What a hotel, stayed In zanty 8 times now have many friends living and working there , This hotel Is clean and very nice for zanty, Very nice reception, leather seats , Big area Pool , Is cool and bless the girl on the food bar by the pool , Chorger, works 7 days a week, will look after you, food cheap and drinks very cheap for a hotel by the pool, £1 euro a bottle of coke cheap for a hotel , staff meet you and take you to your room in uniform, towel change all the time and cleaners in. We have stayed In 6 hotels In zanty and this was good. Go to Hot lips In Lagenas top of roed left in a taxi, 5 minutes, try YoYo,s at the end of kalamaki road, then right for the best english brecky, Mermaids do the best food but you will wait to get In, Go to shipwreck, go see the turtels near your own beach near golden sun, BEWARE have been to zanty many times, seams to be a lot of jelly fish at moment, wife got stung sliding in off the pedlows, HAVE A GOOD TIME

Carrie H

hello me and my partner ben stayed at the golden sun hotel september 04 it was the best holiday we have ever had and got engaged out their!!!!!! the weather was great got a great tan!! we didnt know what to expect as we had never been to greece before and worried it was going to basic. the golden sun was perfect it was very clean the pool was crystal clear and clean. the drinks were cheap at the pool bar. you dont have to fight for a sunbed. i didnt see any nasty bugs around our bedroom.

i would strongly recomend to go to the cave bar at night it was so romantic !!! and i would go to smugglers cove we loved it. hire a pedleo we just sunbathed on it for hours.

any men out their looking for a perfect place to pop the question go to zante (kalamaki)

one evening we got a horse & carraige back to the hotel that was really good.

best drink to order bannana liquer & lemonade.

the mermaid restaurant/bar served the best food it is quite busy and be prepared to wait 15 mins to be served the portions are great.

we hired a quad bike put 10euro's inn for a full tank and went to discover zante.

me and ben had such a great time we would love to go back but we want to try out kefalonia. x

Can U Help?
Bev B
Hi we are booked into Golden Sun Hotel in Oct 2005, never been to Greece befor, looking forward to it. Just wondered if anyone knew how far Golden Sun is from Cavo D'oro, we have friends at the Cavo D'oro, but couldn't get booked in for 8 of us. Thanx to anyone who can help, Bev
James T

The golden sun is perfect. It's quiet, clean, and right next to the beach. Ava behind the bar in the evenings is lovely, she brings the guests together and you'll have a wonderful time. Anastasia & Athina

at reception are very beautiful, very friendly and always helpful. They helped to make my holdiay amazing. I'll be coming back as soon as I can as I miss them all already

David W
The Hotel was disapointing in some areas, breakfast was nearly the same everyday, only the type of egg changed! pool etc was great, rooms cleaned everyday & did have the air con on (aug), bar was a waste of time & expensive, we got use to the planes landing, tue & thur the worst.
No evening entertainment which was odd as all the other Hotels around did have, but your more than welcome to use them.
Big plus was the local restaurants, great, never had a bad meal.
ave £25 for two 3 course meals with drinks & tips.
Try the Dias, Paolo, Pandesia all excellent, cocktails ave £1.50, wine £2.50 a bottle.
Never had to test the Hotel for sorting out a problem, but maybe thats a sign that they got things right.
You'll enjoy it, just remember its a greek hotel & treat it accordingly. David & Karen

D E
We stayed at the, 'annex' ,which is the Golden Beach Hotel, but it is really just another block of the Golden Sun, where we used all the facilities i.e. breakfast pool reception bar etc.We found the hotel very clean and well finished and the breakfast was nice but boring.
We did think that the Hotel could have made an effort to put on some sort of entertainment in the evenings, all they have is 1 pol table, 1 TV ( showing Greek tv ), and 1 bar (with expensive drinks).
I dont want to sound like a grouch here, the Hotel is well situated (2 min from beach)and very comfortable, it would just take a little more effort from the owners to make it a 'great' Hotel.
Please go, you'll enjoy...................D
Amber W
it was a lovely location about 10mins from the beach very quiet and very clean the people in the hotel and sanck bar were lovely

Mich S
This hotel was in a great location just stones throw away from the beach. It was very clean and the pool was maintained to everyday. The staff were not very helpful and didnt really make you the welcome but the hotel made up 4 this. The a/c was not on wen we were there even though there was an heat wave n u cudnt rent fans from the reception. The breakfast was way below par you got the same everyday there was no variety next time we go we r goin self catering cos there r sum wicked tavernas e.g Escape n Pandesia. Dont come hoem without goin in the angel bar or the down under bar those guys in there were so wicked at making cocktails n it was very cheap. The food in the Golden sun from the pool bar was great but it was dead expensive compared to the bars in kalamaki. U must go 2 laganas on a noght n visit akropolis 4 a meal it is great. The hotel is great but there r some downfalls. We went last yr though so sum of the staff may av changed. We r goin bk 2 kalamaki in 3 weeks cant wait stopping in the anagenessis apartments is any 1 stopping in them same time if so do u know where bouts they are r they near the cronulla apartments. Lat me know asap

Linda M
We have just returned from a 2 week stay at this hotel and we really loved it. Please do not be put off by all the adverse comments currently on this site. I'm very fussy by nature and was really freaked out when I'd booked then read the comments on airplane noise and dirty rooms with surly staff. Really it couldn't of been further removed from the truth. Our room was cleaned EVERY day and throughly, our beds made and towels replaced approx 6 times whilst we were there. The breakfast is fairly Continental but there is always a choice of cooked including baked beans, french toast, scrambled eggs, boiled and fried and once or twice breaded mushroom. There is a choice of cereals, cheeses, pressed meats,various breads and cakes as well as Greek yoghurt/ honey/jam, fruit in jelly and other sweets. Tea, coffee and juices are available and you can eat and drink as much as you like. The breakfast room is light and clean. The best breakfast I've seen in a Greek hotel. The rooms are well decorated and a fair size BUT best of all for me they have a bath as well as a shower. Worth noting here if your disabled the hotel has brilliant access and is ramped practically everywhere. The hotel is beautifully decorated with very nice furnishings but it is true to tell that at least in May it is VERY quiet and lacking any kind of atmosphere particularly if your young. Do try for a sea view as our pool view room was pretty cold after the sun left it about 2pm and we had to get an extra blanket. I am a bad sleeper and was really worried about the plane noise but really it wasn't a problem and only woke me up once in my entire stay. In my opinion the double glazing does work and it certainly wasn't deafening. The location is wonderful situated 4 minutes or so from beach and I can really recommend the restuarant on the beach as serving good portions at a good price. Also if you take a taxi in to Kalamaki village be sure to vist the ;Motorway Services' where you can obtain the best English breakfast ever. The portions are great and the prices are really good. For most of our stay we ate at The Lourdos Hotel which is next to the Golden Sun [cos husband had leg in plastercast ] good mixture of Greek [mostly ] and some English food. Worth going there if only to see there fantastic courtyard garderns. If you want lively clubs and bars don't go to Kalamaki unless you are prepared to pay for a taxi [available outside door ] to Laganas, which is really party, party till 4am and beyond.....this will cost you 7 Euro's one way. High moment of my stay was seeing the Loggerhead turtles....don't listen to reps, best chance of seeing them is about 7 or 8 pm. Know I've really waffled on but wanted people not to panic at previous postings as I had. Have a great holiday. linda. x
| | |
| --- | --- |
| | - UK |

Can U Help?
Samantha R
chaz read below and every1 else i would be grateful if u could answer my queries thanks!!!
Samantha R
Hey chaz read your msg i am also going to golden sun with my boyfriend on 6th of june, maybe could meet up prob see u by the pool im 20 and my bf 19, both from ireland. would be good to have company somtimes. hopefully see u there.

by the way please does any1 know if u can rent a fridge dont think i could survive without 1????? and is the weather good in june??? thanks
Chaz
i am going to the golden sun in about 2 and a half weeks, i am 18, and my boyfriend is 21 so if any one is going to be out there the same time let us know. south wales. Chaz

Ruth T
We have just got back from the golden sun. All in all it was fine just what you would expect from a greek hotel. We thought we could have done with having our towels changed more than twice a week as when it is so hot you have so many showers and the towels were constantly wet and smelly as there was no where to dry them! Also the room was not cleaned that well as the same dirt was on the floor for the whole 10 days we were there.

The breakfast was awful, it could have been improved so easily but the hotel management were obviously not interested in anything apart from saving money.

The pool was lovely and the snacks from the pool bar were lovely.

The planes were not a problem at all the noise lasts for 5 seconds if that, however the hotel next door was very very noise with bad singing and entertainment, it kept us up until 1 in the morning on a few ocassions. However the hotel itself was lovely and peaceful.

Anyway we had a good time.

| | |
| --- | --- |
| Search for Golden Sun Hotel in all of JustZante & the Messageboard | |
More Hotels and Apartments in Kalamaki...

Aeolos Resort | Amaryllis Hotel | Anagenessis Village Hotel | Antonis Apartments | Asteri Studios | Athina Apartments | Bitzaro Grande Hotel | Bitzaro Palace Hotel | Caretta Beach Hotel | Cavo Doro Hotel | Costas Hotel | Cronulla Hotel | Crystal Beach Hotel | Daisy Apartments | Dennis I and II | Dennys Inn Hotel | Dias Studios | Dina Studios | Dionysis and Tonia Studios | Exotica Hotel | Garden Village | Golden Sun Hotel | Ionian Blue Hotel | Island (Caretta) Hotel | Kalamaki Beach Hotel | Kalidonio Studios | Klelia Hotel | Louros Beach Hotel | Macedonia Hotel | Marelen Hotel | Meandros Hotel | Metaxa Hotel | Muses Villas | Nadia Studios | Plubis Studios | Rainbow Apartments | Roseland Hotel | Sea View (Caretta) Hotel | Sirene (Dollas) Hotel | Sirocco Hotel | Sofias Hotel | Star (Caretta) Hotel | Two Brothers Studios | Vanessa Hotel | Venus Hotel | White House Apartments |