Zante Beaches

Kalamaki Reviews
---
Zakynthos Guide
---
Local Directory
---
WalkAbout

Street View Style Tours
---
Zante Maps
---
Kalamaki Taxis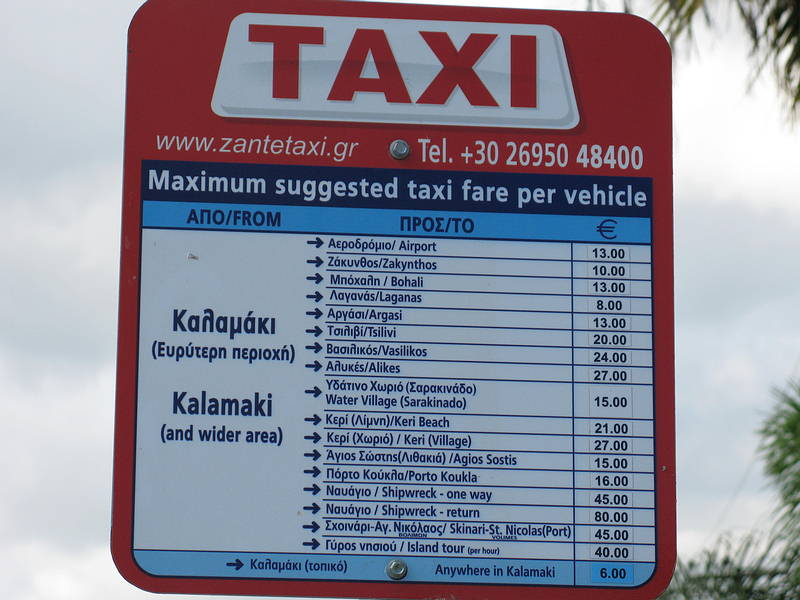 ---
Kalamaki Buses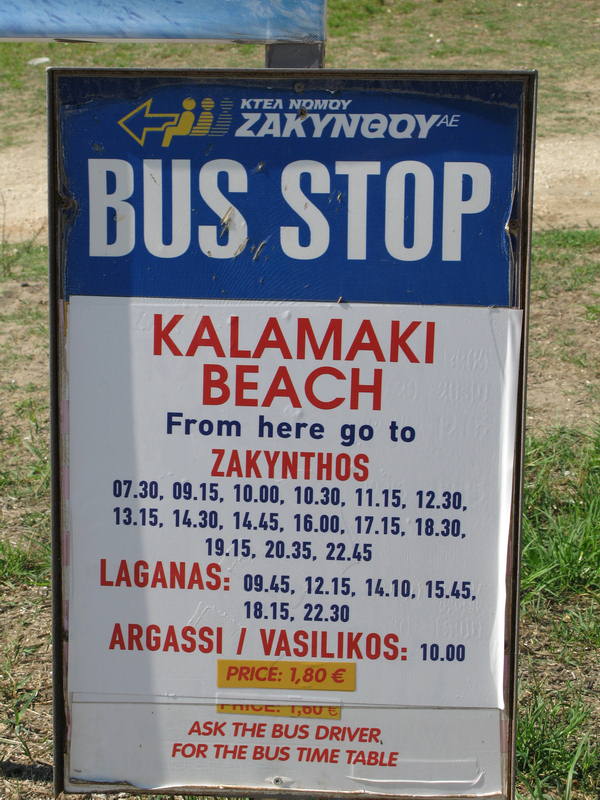 ---

+ Enlarge Map
Anagenessis Village Hotel

(Accommodation in Kalamaki)

10/10
Sharon P

We have been to Anagenessis (this is the correct spelling) twice a year for the last 6 years and would thoroughly recommend the holiday. We have made very good friends with Kostas, Monica, Yanis and Rebecca who care for you very well. Like other comments here, we would also recommend Michelos which is in walking distance from Anagenessis and has an excellent menu with all fresh food. Again Dennis, Artan, Alberto, Theo and Angelo provide an excellent service with many laughs thrown in for good measure.

One other restaurant we would recommend is Yanis restaurant (Komis) in the harbour of Zante town. It is situated just behind a blue and white building at the beginning of the harbour. It a fish restaurant (not cheap) but very very good.

One thought though... it is a way from Anagenessis to the closest beach (Crystal) about 40 minute walk, so you may need a car.

10/10
Debi A
We were at Anagenesis in sept 2008. Every one there was so friendly. Staff and guests alike. Costa and Maria made every one feel like they belonged and did every thing they could to make our stay a good one.

We made some real friends and are returning this year with the Mother in Law. Costa HELP!!!

Would recommend the lamb kleftico at Michealo's restaurant just up the road.

10/10
Kayleigh W
Hi me and my sister visited the anagenesis in late september 08 an had a wonderfull time even tho we were the youngest people staying at the apartments at the time we had a wonderfull time an kostas an maria and co always made sure we was bein looked after an was in safe at night witch was lovely of them the apartments are quite far from town an the beach but is a nice walk in the day time its a bit scary at night but cheap to get a taxi i wouldnt advice going at the end of september if ur after the sun but we still had a great time its very beautifull apartments with great people. We will defintaly be going again soon Kayleigh an Staphaine wyles 23 sept08 x

10/10
Paul & Angela

The Anagenessis Apartments are a fantastic place to go for your holiday in Zakynthos.

Whether you are a couple or a family, this is the place to come if you want to have a real Greek holiday.

The owners Kostas & Christina are wonderful hosts and always make you feel so welcome during your holiday.

The Greek night is not to be missed, and everyone has such a great time.

It is always a night to remember!!

The apartments are very spacious and clean & are very different from other accomodation you are probably used to on this island.

The location is very peaceful and a great place to relax during the day, either by the Pool, Bar or in the garden area.

The main swimming pool is also a good size and very clean, and there is also a paddling pool for the children.

Kalamaki and the wonderful beach is only a short taxi ride from the apartments. If you want to walk, it only takes about 20 minutes and you can always stop and have a drink somewhere on the way.

The famous Mikaelo's restaurant is not too far away.....and is not to be missed.

If you stay at the Anagenessis you will have a great holiday, meet some lovely people, and like us you will return year after year.

7/10
Alisdair M
HI THERE 2 ALL AT ANAGENESIS IS DAVID.DANIEL,MARIA IS STILL WORKING AT THE APARTMENTS.WE WRE STAYING AT THESE APARTMENTS LAST YEAR.THE APARTMENTS WERE NICE BUT JUST FELT THE WALK TO KALAMAKI STRIP WAS A NIGHTMARE WALKING DOWN THE WEE DARK ROADS.
10/10
Liam F

Well . I loved my time at the anagenesis it was great . it was clean tidy everything was perfect . i will never ever forget iti had loads of fun and will definetly want to go there again
10/10
Louise L

Wow! What Can I Say About The Anagenessis Apartments? They Are Absoloutly Fantastic! We Have Been There 4 times n this year will be our 5th time!

Costas And Cristina Make You Feel So Welcome They Make You Feel Like A Part Of Their Family!

The Barbeque Nights Are Fabulous Because Its A Night Of Great Food Great Dancing And Great Memories. In Fact, The Anagenessis Apartments Are Sooo Fantastic My Brother Went To Work There At the End Of March!!

Ian S
We stayed here in July and had a great holiday.The apartments are very clean and well equiped, But the bathrooms are rather small.Daniel and Dora are fantastic. The only problem is the location its a fair walk into Kalamaki about twenty mins to the road junction of the laganas road, and very dangerous at night without a torch.As for the quietness we hate Karaoke so the last thing you want to hear as your toddler goes to bed is a cat being put throught a meat mincer.Apart from that its one of the best apartments weve ever stayed in very nice looking.

Ian

David M

Just got back from the most relaxing and chilled holiday i have ever had wth my fiance Cathy. We would like to say a MASSIVE thanks to Costas, Daniel (Hey Baby), Dora and Maria for making us very very welcome.

If you have never been to the Anagenesis then GO NOW!!!
Lee L

Our family recently stayed at Anagenessis, it was clean and located in a quite position. It is along walk into Kalamki centre/beach. Daniel and Dora were great - had a fun Greek night with them! We had a 2 bedroom apartment - which was above the bar (our children were 6 & 3) and did stay open until 2am most days! Drinks we found to be expensive and not very well catered for for younger children. Having said that we had a lovely family holiday, children spent alot of their time enjoying the pools! which gave us time enjoying the peace and quite surroundings!

Kev D
.

Our party of 5 found the apartments to be good . but mainly due to estate agent photos in the holiday brochures showing the swimming pool to be twice the size and the incorrect information of kalamaki only being a short walk (1.5km) away (nearer 2 + km) . the beach is another 500m You must realize also that there are no pavements or street lighting so this makes walking back a no no at night. Use a taxi only €5.plus point is the sugar reef resturaunt fantastic food and personnel.
Ian S

Booked to go in 2006. We have been through Kalamaki loads of times. but never stayed there. Can someone please tell me where the appartments are in relation to the resort centre. I.E the main road that goes up to laganas.Looking forward to going sounds really nice. Thank You
Bill J

We have just returned to the UK after spending a wonderful week at the Anagenesis in the company of Costas and his family. We loved every minute of the holiday. We were made to feel welcome the minute we arived and I'm sure we will visit again. A special mention must go to Ernest and Daniel, the bar hosts. They were fantastic, nothing was to much trouble, they were great with my two boys making them endless milkshakes. Yes it is out of the way and a 15 / 20 minute walk into the center but this brings a peace and tranquility during the day and late evening when the children can place safe in the small park and the adults can gather round and have a drink or two.

Nik T

What can we say about these apartments that does not already appear here.

The quality of Anagenesis from the room to Kostas, Christina, Earnest, Daniel & the "family" was exemplary.

Long may they reign.

We stayed there early August & albeit it is a little out of town ...hey who cares.

Great place, great people...what more do you want

Nik,Tracey, Matthew & Conor
Pete C
: Great place to stay.All the staff are extremely friendly and helpful nothing was too much trouble. The Greek night BBQ was fantastic.The only drawback was the location, quite a way out of town and a good walk especially if you young children, we relied on taxis (5 Euros each way, pay no more). All in all a very good place to stay nice views from apartments which were also very good.
Beth A
I ment to tick the excellent box on the quietness too, hand slipped!!!

Beth A
Me, Stav and Mackenzie spent a magical 2 weeks with Kostas and his family in August 2003. It was and is 1 st class, can not fault it at all. Since then we've had a baby ( who was nearly named Anagenisis, Beckham style!!) and only now we've finally gotten round to booking to go stay there again.So next May ,just after baby Griffs' 2nd birthday,we're going back ,and finally after being engaged for 12 years, we're gettng married there too, its taken us a while to find the perfect location,and Anagenisis ticks all the boxes!!So if you are going to Zante around the 9th of May 2006, the very excited valley rabble is us!!, Go there, you'll love it, we did.

Can U Help?
Louise F
Me, My hubbie and 14 year old daughter are staying at anagenessis in four weeks time, flying out on July 17th. This will be the first time our daughter has been abroad and we are all very excited. I only want to hear good things!!!!!!!!

Chris C
My girlfriend and I got back from Anagenesis Apartments on 12 June, what can I say we absolutely loved it!! Already looking to go back later in the year if possible (hope hope). Lots of people there were on their 3rd or 4th visits so it really is that good. Such a friendly place to stay, you really are made to feel part of the family, they just can't do enough for you! Kostas, Mamma, Pappa, Earnest and not forgetting the flame thrower barman Daniel (you need to go to the Greek night to see that!!). You will be made to dance on the Greek night mind, still it's good fun, the BBQ and salad is great as well. The food in the Hotel is good too, try the Giros, and the Suvlaki(?), it's beautiful, and Mammas Carbonara is gorgeous! The apartments are bit out of Town, but it's not too far to walk (10-15mins ish), but the quietness and beauty of the place more than make up for it. The pool area is great, and we loved just spending our time there as opposed to the beach or anywhere else. Nearest restaurant is Michaelo's, fantastic food and really friendly, ate there a quite a few times, my girlfiend fell in love with the Taramasalata and the Briam. Me, well the Pepper Steak fillet and Apple Pie that melts in your mouth is to die for. All in all, if you are after a relaxing friendly holiday (we met loads of really nice people), this is the place to go without a doubt! 10/10

Andrew F
Great place to stay. Everyone is so friendly. Highly recommended.

Brian D

For 'we liked it', read... WE LOVED IT!!!

We wouldn't hesitate to go back! One family we met there were on their seventh visit to the Anagennisis, another family on their fourth! That tells it's own story!

Without a doubt, the friendliest staff I have come across on holiday.

Location wise, I have selected 'excellent' but I would add that 'excellent' is for those who are looking for peace and quiet! It is a 5 minute walk to the nearest market, a 10 minute walk to the nearest resturant (Michaelos, which is a MUST, the food is the best ever!), a 15 minute walk to the town centre, and a 20 minute walk to the beach.

Taxi's are cheap, and hire cars make life easy, but to be honest, the poolside is so nice that we preferred lazing there to going to the beach anyway!

We met loads of lovely people, and the setup there lends itself well to mixing and making new friends.

Ther perfect base for a quiet holiday or for exploring the island by organised excursions/ hired car.

Can U Help?
Trudie H
we have booked to go to Anagenessif appartments in Kalamaki, we have since read about the resort and we are not sure if it will be suitable for our two young daughters aged 3 and 6 years. Can anybody give us any info. Thanks
Jonathan T
not the place to take children,too far to walk into town. So it was great for my party of four.Very nice rooms. Fantastic staff who cant do enough for you.Anything you want ask and they will do it for you.The Greek night is second to none (I have done lots)and they produce some very tasty food.Mr kostaki and his crew will make your stay on their wonderful Island THE BEST.
The complex is off of the main road,very very quiet and only a ten to fifteen minute stroll to the beach and town centre.
It was GREAT!!!!!

Paul S
Got back from Kalamaki yesterday. Anagenessis Village Hotel (to give it it's full name) is highly recommended. The whole complex is very well presented and the rooms are cleaned daily. It's a small, family-run complex and this comes across clearly in the way in which you are treated and made to feel welcome. Nothing is too much trouble for them. The bar area is good and the food excellent. The pool area is good, and there was hardly ever any problem getting a sunbed. The only word of warning is that the pool is 1.3m deep at the shallow end & 2.7m at the deep end, so anyone who can't swim or isn't very confident in the water will quickly get out of their depth. However, there is nice little paddling pool for the very young. The aircon in the rooms was very welcome, especially as there was no extra charge for it. We went to one of the Friday Greek Nights. This involves a BBQ, Greek dancing & Dan the barman turning into a human flamethrower. Those who paid to go on the Greek Night excursion said that the one at Anagenessis was better. The price you pay for such a lovely relaxed setting is that it's a mile or so from the beach & most of the restaurants. Also, the road from Anagenessis to Kalamaki has no lighting, no pavements, & some blind corners. This didn't bother us as we had a hire car for the fortnight, but some of the people we saw walking along the road looked rather vulnerable (and very hot). Make sure you know how you're going to get around before you book (e.g. walk, taxi or hire car), & budget accordingly, then you'll have no cause for complaint. Anagenessis (& Kalamaki in general) is close to the airport and you can hear some noise, but it's only really noticeable during the relatively few early morning take-offs (Zante airport isn't exactly Heathrow!). We went with Eclipse, but I note that it's not in the Summer '05 Eclipse brochure. I think Unijet will be using Anagenessis next year. I wouldn't hesitate to recommend it to anyone looking for a friendly, relaxing base from which to explore Zante.

Tom T
we have just come back from the apartments and we love it, Kostas , christina , daniel and the rest make u feel so welcome and will do anything for you. The greek night is fab but you have to be prepared to dance , the food is ace as well. The apartments are about 15-20mins walk to kalamaki center but it doesnt feel like that when u get going the beach is just 10mins carrying on . The accomodation is nice ,small but u get to know everyone, pool is good , air conditioning is a god send. overall excellent , would think about going back .
| | |
| --- | --- |
| Search for Anagenessis Village Hotel in all of JustZante & the Messageboard | |
More Hotels and Apartments in Kalamaki...

Aeolos Resort | Amaryllis Hotel | Anagenessis Village Hotel | Antonis Apartments | Asteri Studios | Athina Apartments | Bitzaro Grande Hotel | Bitzaro Palace Hotel | Caretta Beach Hotel | Cavo Doro Hotel | Costas Hotel | Cronulla Hotel | Crystal Beach Hotel | Daisy Apartments | Dennis I and II | Dennys Inn Hotel | Dias Studios | Dina Studios | Dionysis and Tonia Studios | Exotica Hotel | Garden Village | Golden Sun Hotel | Ionian Blue Hotel | Island (Caretta) Hotel | Kalamaki Beach Hotel | Kalidonio Studios | Klelia Hotel | Louros Beach Hotel | Macedonia Hotel | Marelen Hotel | Meandros Hotel | Metaxa Hotel | Muses Villas | Nadia Studios | Plubis Studios | Rainbow Apartments | Roseland Hotel | Sea View (Caretta) Hotel | Sirene (Dollas) Hotel | Sirocco Hotel | Sofias Hotel | Star (Caretta) Hotel | Two Brothers Studios | Vanessa Hotel | Venus Hotel | White House Apartments |