Zante Beaches

Laganas Reviews
---
Zakynthos Guide
---
Local Directory
---
WalkAbout

Street View Style Tours
---
Zante Maps
---
Laganas Taxis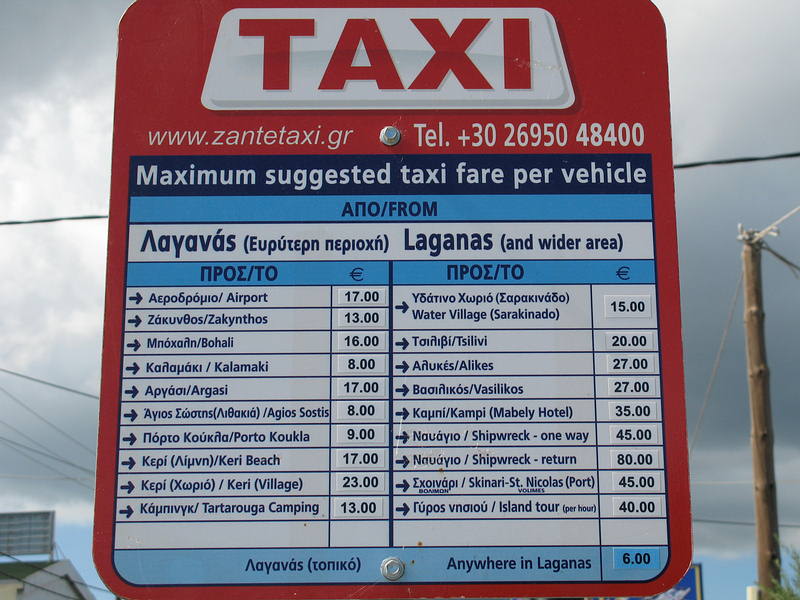 ---
Laganas Buses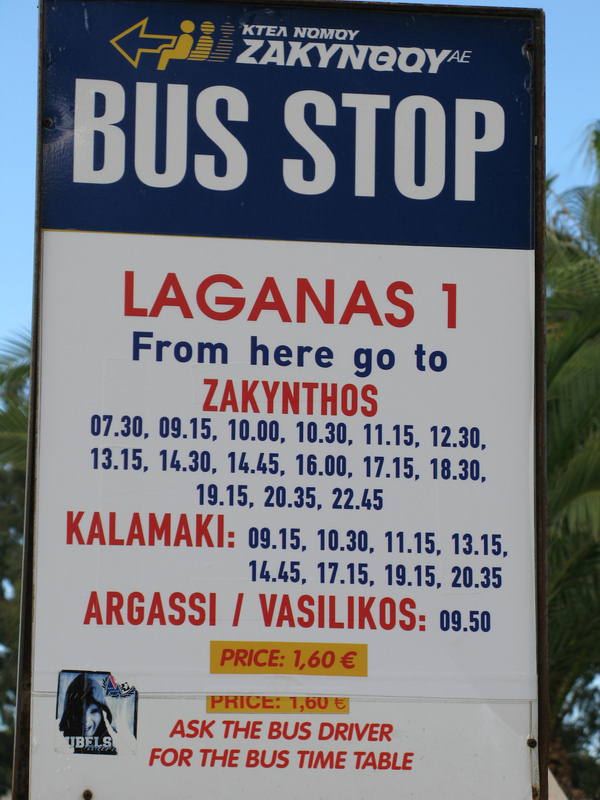 ---

+ Enlarge Map
Ionian Sea

(Restaurants in Laganas)

1/10
Sarah H
Terrible service- staff rude. Food poor quality.
1/10
Ioanna B
Really you should avoid it.The food is a joke.My daughter who is 10 years old cooks better!
1/10
Andy A
Appalling... AVOID AT ALL COSTS. After spending a week in Zante and having some beautiful food at some lovely restaurants, this was a choice we made due to it's prime position and lovely surroundings. Don't be fooled the food was disgusting and very bland, if your taking an offer be prepared for smaller portions. None of the good had any herbs, just plain cooked an boiled everything. I'm typing this comment at the restaurant after we complained to the manager who talked to us with a disgusting attitude. The beer is also watered down, when mentioned to the waiter he clearly knew with a guilty mind brought a bottle to me and opened it in front of me. Clearly this was now a better beer... DO NOT COME TO

1/10
Rich S
Worst meal we had all holiday. The location is ideal and the restaurant looks very classy from the outside. Once you're in it's a very different story. The deal includes a starter, main and unlimited (5) drinks. The only way you will get the service for more than 2 drinks is if you happen to be a drop dead gorgeous woman dining alone. Our starters came and were placed in the middle of the table for us to 'sort ourselves out', not only that but they tasted horrendous. We then ordered our main courses, 2 out of 5 were incorrect and my sirloin steak might as well have still been alive (despite requesting medium rare). Not only that but when they arrived we were asked to pass them down to each other as the waiter couldn't be bothered to walk around the table. When we voiced our concerns we were met with little more than jumped up arrogance, a lack of concern and a request for payment. Worst service I have ever had, and it seems I'm not alone.

1/10
Sarah M
HORRIBLE
1/10
Peter K

This place has gone downhill in the 4 years that we have been going to Laganas. We always start our first day of our holiday here but in future we won't be. I think it has been taken over by someone else and now means that the food isn't great & nor is the service. Its a shame really
10/10
Lindsey B
We love it here. Food is great, especially Mousaka! Never had to wait too long or had bad service! We always go 2 or 3 times depending on how long we are there for!
Jim N
went twice, anything you want, as long as it was fillet steak with cream!
first time the service was good, the boss man must have been about as second time they were all just lazing about talking, had to go over to order!
I think it was just a bit off season & thats why the had a poor selection, some fella wanted to know what was the best day to come for fish, this led to a big debate, the result? non of the seven days of the week...
Good surroundings though...

Harry D

One of the best places to eat in laganas, good food, good prices and good service what more do you want! we ate here three nights in a week and would recommend it to anyone. The service was not slow at all when i was there and the steaks are great.
Kirsty B

food was ok once we got it, they took our order str8 away but took them an hour 2 cook, funny thing was-just as we got our food, there was a power cut! well funny! need 2 think bout ya service guys! otherwise, ok

Kate W

Well where do we start? Food Rubbish,Service Horrendous,Staff Totally Ignorant . went to the Ionian for my birthday,14 altogether didn't get any ones order correct drink or food did nothing but tut and sigh,my brother talked to the manager after having a drink almost knocked on him by a over zealous waiter,hurrying us to eat, twice the manager walked away to see to new customers who had just walked in with no explanation,just left my brother standing there,the greek customers were treated with the upmost respect any foreigners treated like crap.There was no free drinks given to say sorry about the food and service just the threat of the police if we didnt pay the service charge which we found highly amusing considering the terrible lack of service. This was by far the worst restaurant on the island .and we visited alot during our 2 week stay

Jodie D

This was the most expensive restaurant we went to over the 2 weeks we stayed, looked nice and posh from the outside but then again appearances are deceiving. The food was not all that, the waiters did even get our order right and the food was poor. Do not visit!!
Sarah B
We had a lovely meal here, can recommend the mixed seafood!
Wine lovely, nice atmosphere and attentive waiters.
Reasonable prices too!

Karen .
Food was about average. Service was very very slow so be prepared to be there for a while!
Rach
not sure waht everyone is b***hing at! yeh the service is a bit slower than other places but fine if you have time for a lesiurely meal. the old guy on the door is sweet and kept calling me treacle!
;-)the food was fine, i'm a veggie and there were a fair few choices.
Mike T
Agree with person before. Worst place we ate on the holiday!! It looks very nice from teh outside but once you wait for an hour for your food to come out and then find out that it was frozen food reheated!!
Jiniel A
This was the worst place we ate at. The service was terrible. Had to wait 2 hrs
for meal. Complained and was told that we couldnt have a discount as they
hadnt given the other people who had complained one. Totally agree with
everyone else who's rated this as poor. DO NOT VISIT!
Oliver K
Looked nice from the outside and the guy at the door seamed very friendly as they all do. Inside the gardens of the restaurant was a fountain which we were next to which was good. My girlfriend and i ordered a pizza which was just like a cheap oven pizza you get back home. Not very impressed. Look out for the waiter who looks like Tony Blair though, he is the spitting image of him.
Michelle O
I went here with 9 other people in August, we waited till the last night because it looks really posh from the outside. It was the worst meal i have ever had. we all hated it and asked for out money back, it was cold, the service was poor, would not reccomend this.
Lisa D
I have to admit we ate twice here and didn't have a bad meal on both visits, my little girl enjoyed it especially the playground.
Myra S
Best place we visited for eating out. Food was great, good service, and there was a small playground for the kids. We went twice during our week at Laganas.
David R
Worst restaurant we visited!

Food was reheated rubbish! All dry and no flavour. Service was shockingly bad, all nice until they get you down at your table then they forget about you! Waiter couldn't open wine, cultery was dirty and generally poor.

Kirsty E
we tried here and it wasnt the best ive eat at. i had chicken fillet and didnt eat it cos it was very black.the service was ok but just 1 of them i dont understand, we shouted him over and asked to change a order we told him it and he walk off saying ok, another waiter came and said whats your order, we told him it again,and then the second waiter said that the first waiter dont speak english, but he sounded like he undrestud.

Carina I
Can't believe what I'm hearing about this restaurant. Just got back from Laganas and ate here 3 times in a week. It had certainly improved from when we went here two years ago. The service is much better and the food was fantastic. Have the cheese pies for starter - superb. And the Ionian Sea spaghetti and the fillet steak with roquefort cheese are also highly recommended, even if they can't spell it. Really pleased they've improved so much. Before it was a lovely setting with average food, but now it is a lovely setting with great food. And give the waiters a break - there are the same ones all season and they have a nightmare when its so busy - they work hard for the crap wages.
Laura
Excellent food, good service, I dont know what everyones complaining about!
| | |
| --- | --- |
| Search for Ionian Sea in all of JustZante & the Messageboard | |
More Restaurants in Laganas...

Akropolis Restaurant | Albatros | Apollon | Avanti | Big Boys | Blue Sea | Blue Waves | Bocca BBQ | Bon Appetit | Bonanza | Caretta Caretta | Chevys | Cicero | Country | Cozy Corner | Delicious | Demetra Taverna | Favela | Georges Place | Giannis | Greek Islands Restaurant | Horizon | Ionian Sea | Island | KFC/Pizza Hut | Koralli | Kostas Taverna | L Frateli | La Marinara | Mamis Pizza | Marabou | McDonalds | Med Version | Medouli | Melons | Michaels Place | Midos | Mouria | Mr Dallas | Notes Taverna | Olympic Flame | Orient | Paradise | Peri Heaven | Pierros | Pythari Taverna | Robin Hood | Sarakina | Seaside | Sirocco | Sizzlebang Grill | Stasantas | Steakhouse | Sunset | Taj Mahal | Tangail | Tasos Place | Tasos Restaurant | Toad in the Hole | Wok Chinese | Zakynthos | Zandos |