Zante Beaches

Kalamaki Reviews
---
Zakynthos Guide
---
Local Directory
---
WalkAbout

Street View Style Tours
---
Zante Maps
---
Kalamaki Taxis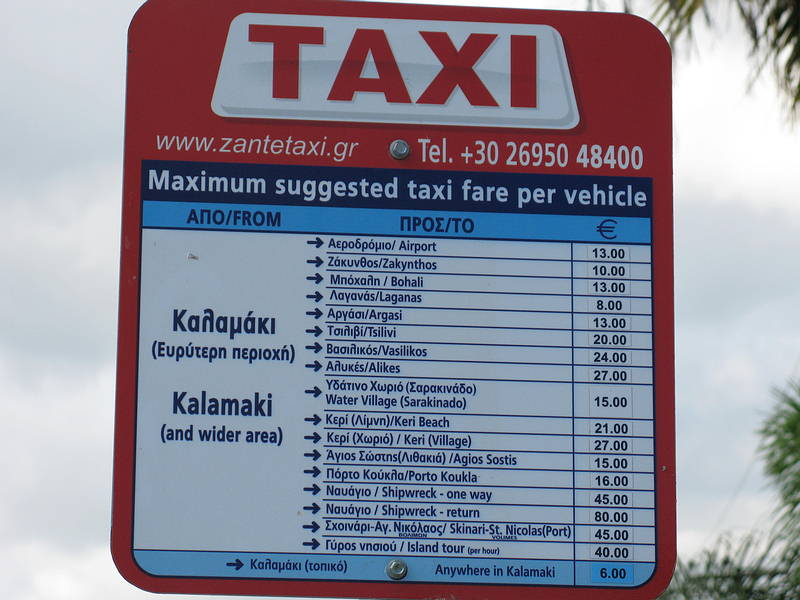 ---
Kalamaki Buses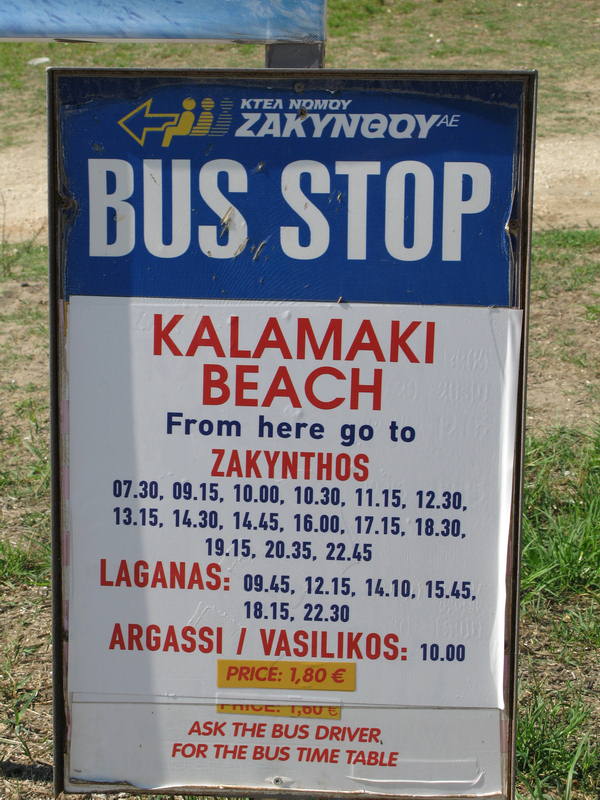 ---

Spaghetomania

(Restaurants in Kalamaki)

10/10
Lindsey L (November 19, 2008)

brilliant resturant cant wait till june , staff are so helpful and pleasent , lovely relaxing meal
10/10
Amanda L (September 17, 2008)
This place was the only place we ate more than once (suppose to b eating somewhere diffrent every night) the service was fantastic, food amazing great value for money. Also bocca next door was fantastic the steak is cooked to perfection and the desserts are out of this world. highly reccomended
Tim P (July 28, 2008)

A great place to eat for the whole family. We ate here 4 times, trying something different most times. It is more than just pasta and pizza and whatever we selected went down well. A nice cool breeze can be found to the side of the restaurant and the staff are superb. Very attentive without being in your face.

A great place to eat.
9/10
Neil C (July 19, 2008)

Just got back from a week's stay in Kalamaki and my wife and I used this restaurant 3 nights out of 7. The service is very good , the prices fairly reasonable and the food is superb. I had the spaghetti bolagnaise one night and it was the best I have ever had.
9/10
Fay M (July 11, 2007)

We have just returned from a 2 week stay in Kalamaki.

Although, we only went to this restaurant once, we thought they served the best pizza we have ever tried. The wine is a bit more expensive than elsewhere because they don't seem to offer house wine but that didn't matter.

Excellent choice for pizza!
Debbie W (October 12, 2006)

hi danny would just like to say have a great winter rest which you so deserve and a big thankyou for everything when we came over in june. could you please also pass out great thanks on to your bosses wife for everything to. anyway hope we will see you before june next year as hopefully you will be coming over to see us with nick. i am going to put some photos on here when i get the chance.

take care danny

lots a love

debbie and chris xxxxxxx
Hannah A (September 23, 2006)

hey its louise and hannah here !!

just leaving u a nice lil comment !! evrything in the restaraunt was brilliant the food the service, the waitors ! heres the pictures of me danny nd hannah and vasilis and hannah ! see you agen sometime soon hpefully ! xxx

Bridget A (August 22, 2006)

We found Spaghett-o-mania on our first night, exhausted from travelling and too tired to care and thought what a crap name but we fancied some pasta. How lucky we were to have chosen this restaurant. The food was excellent and the service from Vassilis and Ireni was equally good. We tried different places but kept coming back safe in the knowledge that everything on the menu (and we tried most of it!) was most yummy! You can also choose form both the pasta and pizza menu or the BBQ grill manu at the same time and the steaks and chicken we ordered were the best meat dishes we had. Please give it a go if you're visiting Kalamaki and we've already decided to return next year and are planning our meals as we speak. Thank you to all the staff at Spaghett-o-mania!
Can U Help?
Sam D (August 10, 2006)
I'm trying to get in contact with Danny from Spaghetti O Mania does anyone have his mobile number or Know if he is living at the same address
Jamie T (July 24, 2006)

This place is superb, the people are soooo very friendly, the food is always perfect, I can't ever get enough of the place and went 4 times this year.

Vassilli & Ireni (Apologies as I've definitely spelt your names wrong!) are the nicest waiter & waitress on the island. Vassilli, good luck with opening your own place next year, Ireni good luck with your studies (P.s. Ireni is also the most beautiful waitress on the island!)
Becki + (July 20, 2006)
we have just got home from a fantastic holiday in kalamaki this was our favorate restauraant. all of the people that work there were fantastic my mum loved the place so we kept going bak!!! im sure we will be bak next year!!! c you soon!!!!
Ellis S (July 15, 2006)

hey danny

i just got back from kalamaki and im already booking my nxt holiday there lol i loved spagetti o'mania and even more so love the waiter danny miss ya already dnt 4get me nd ill c ya nxt year love ellis x
Erin W (July 10, 2006)

| | | |
| --- | --- | --- |
| | Food : | Excellent |
| | Service : | Excellent |
| | Price : | Excellent |

I came home from Zante on Thursday night after having a great 2 weeks! Spaghetti O'Mania is the best restaurant in Kalamaki. I ate their most nights as the food and service is really good! A Big Hello to Vasilis! You are lovely! Hopefully i will be back soon for some "grilled chicked" ha ha

Erin from Scotland

x x x
Debbie W (June 22, 2006)

hi danny

thanks again for the fantastic service and the fantastic food. can you give a big thankyou to your bosses wife for the two bottles of wine. danny your brilliant i will keep in touch and hope to see you next year

lots of love

debbie an chris xxx
Angie B (May 26, 2006)

Hi We loved the food there and Dan the waiter he was great, lots of puds and shots. thanks Dan.

Angie,Richard,Louise

Janine and Becky
Mary S (March 04, 2006)

lovely food , absolutelly the best staff in kalamaki,very convinient prices we will definetelly go back this year.
Tracy+dean G (October 05, 2005)

spaghetti o mania is a great restaurant food is delicious plenty of varity on the menu.all staff are very helpfull and work very hard to ensure service is 1st class if you like pasta you must visit this restaurant 1st class.
Sarah G (September 10, 2005)

Really enjoyed my meal here - one of the best i had all week!

Definately recommended!
Helen K (August 03, 2005)

One of the best resturants in Kalamaki.

Great service, good prices, lovely setting, and even though its on the main road it's not at all noisy.

The Chicken Al Fredo is lovely!
Debbie W (July 19, 2005)
Hi nicola spaghetti o!mania is next door to the down under bar on the kalamaki strip. The food is brilliant as are danny and nick hope you enjoy your meal

Debbie
Can U Help?
Nicola (July 18, 2005)
where iz this
Debbie W (July 11, 2005)
Hi to danny and nick and the other waiter and the shef. Just to say our food was excellent every time including the steaks from the bbq steak house. The food is excellent as with the service. This is far the best restaurant in kalamaki.

See you next year

Love Deb and Chris xx
Siobhan P (June 03, 2005)

Had a tasty carbonara here which was a good price, but the wine was expensive though! Good service however.
Debbie W (May 10, 2005)
Hi katie yes my real name is Debbie Wesley and i have just looked at my message and didnt realise have many mistakes i made. oops!!!

I dont need to go to evening classes i can assure you of that. I was typing that message in when answering calls at work,

We are coming back to kalamki in june so cant wait. Thanks for taking the time to tell me about my mistakes bet loads of people had a good laugh, nev mind hey
Sarah B (October 22, 2004)
Food here was fine and reasonably priced, service wasn't great the waiters weren't very attentive, may be something to do with the resort coming to the end of the season.
| | |
| --- | --- |
| Search for Spaghetomania in all of JustZante & the Messageboard | |
More Restaurants in Kalamaki...

Ambrosia | Artemis | Buon Amici | Contessina | Dias | Escape | Essence | Fanari | Georgia | Heavens Kitchen | Hera | Kalamaki Beach Taverna | Lambros | Maharaja | Merlis Taverna | Michaelos | Milos | Olive Tree | Pandesia | Paolo | Parthenon | Poseidon | Puzzle | Rainbow Restaurant | Select | Sizzle n Grill | Stani | Tazies | Yamas | Yoyos | Yummy | Zakanthi | Zepos |