Zante Beaches

Argassi Reviews
---
Zakynthos Guide
---
Local Directory
---
WalkAbout

Street View Style Tours
---
Zante Maps
---
Argassi Taxis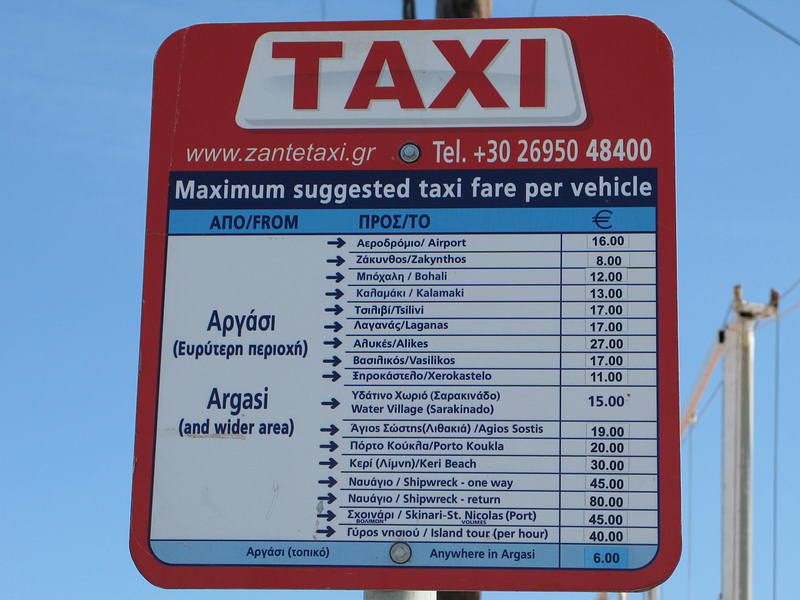 ---
Argassi Buses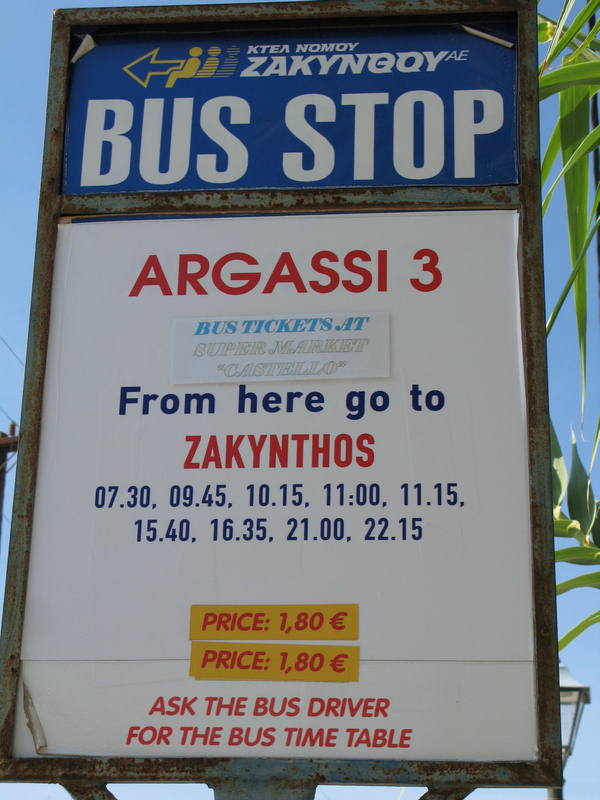 ---

+ Enlarge Map
Athena Studios

(Accommodation in Argassi)

8/10
Val B

09 to 16 /06/2011

We have just had a week at athina, and although the accommodation was basic, it was clean and equipped with everything we needed, with shade on the balcony in the mornings and glorious sunshine on the pool area all day long, with mountain views in the background. The pool was excellent and the family were very welcoming and made our stay very enjoyable. The pool bar had a great atmosphere with good music and the food was of good quality. The location was also great, not far to walk to all the bars and restaurants. We would like to stay there again very soon. Overall the hoilday was great and we were sorry to leave.

2/10
Anne O
We have just returned from a 2 weeks stay at the Athina Studios - which are classed as 2 "Stars" - maybe should read "0.2 Stars" ?

The brochure states "Twin Beds" – BUT we had a 4 feet wide double bed !!

There were no dining plates in the room and a minimal quantity of utensils.

The shower head was hanging off the wall and the shower cubicle leaked badly.

There was hardly any space for storing food and we had to use the sink-top as a work-top.

There was almost no drawer space.

We went 4 days without linen change, and 3 days without waste-bin (and toilet paper bin) emptying.

On cleaning, the Studios were only swept – NO MOPPING – which meant dirt and dust on the floor.

We even had to ask for a toilet roll on 2 occasions.

Other guests spoke of :-

Non-functioning kettles and fridges. One person on taking the kettle back was asked to pay for it. Others had to wait 4 days to get their fridges sorted.

People who paid to keep their rooms on (and then allowed other guests to shower) were asked for an additional charge.

A couple who were given mattresses for the afternoon by a departing couple who had paid for them for the whole day – were then asked for additional payment.

It's 5 Euros per day for Air Conditioning, 10 Euros per week for a Safe and 1 Euro per day for a sunbed-mattress.

The whole place was a rip-off. The only saving-grace was the swimming pool (Hence the Rating of 2).

I am only glad that we hadn't paid the full brochure price !!

NB. There are at least 2 Standards of rooms. Nos. 1 to 10 are not too bad, 11 to 19 are chronic. The photo shows 11 to 19 as the lower storey - complete with storage of rabbits at the rear.

8/10
Sally B

We spent two weeks at the Athina Studios last August and we had a lovely time. As it was our first time in Zante we had no idea what to expect, and when we got there we were pleasantly surprised. We had a great time at the studios. Yes they were basic but what do you expect for £450!! They were comfortable and clean and set in a great location... what more could we ask for! I still miss the peaceful morning swims I took in the pool with Mount Skopos as the backdrop... Just breathtaking!

The family who run The Athina really made our stay. They were all so welcoming and full of helpful advice about places to visit during our short time there. One morning we were also given fresh dates to eat collected from the trees just outside our balcony! I wish we were back there now!!

All in all we had a fantastic stay, and would definitely recommend the apartments for anybody wanting to visit the beautiful island of Zakynthos on a shoestring.

5/10
Jannette J

we have just had a two week stay at the athina studios and it was good the rooms were clean,the bins were emptied every day and the beds were changed twice a week i would add they could have been done more often because the weather was very hot, yannis and his family made us welcome and were quite friendly,the bar was open every night and the pool was kept very clean,the garden and lawns were kept tidy by the grumpy old man,bit late cutting the grass [11;30pm]one night but didn't bother us at all we had a smashing time and would go back to the athina been to argassi 4 times now and we love it

Mandy R
Been back a couple of weeks from these apartments, well where to start good or bad points, lets go with the bad. Went for a week bedding changed once, all bins emptied twice it was great fun when you have a 10 month old baby who goes through a lot of nappies oh well kept me fit up and down the street all the time to go to the outside bins. I think all the furniture must have been from mfi absolute garbage and kept falling apart. Not much room available when you put a travel cot in. Couldn,t cook anything due to only one ring working and no space to put anything. Never seen a balcony so small you had to re-arrange the furniture in order to close the outer doors. The bar was only open during the day only found it open once at night and that was a surprise didnt think the old guy liked when we came back at 10.30 and sat down for an hour.Thats the bad now for the good. Air conditioning was well worth the 35 euros we paid for it. The pool was nice and quiet only us there most of the time, Yannis and his wife really nice and friendly but as for the old guy very miserable. Nice quiet location. Wouldn't go back to these apartments again but for £100 they weren,t bad I know its greece but I bit to basic for my liking. As for Argassi love the place this was my second time in 3 months.

Steve L

Just arrived back from a week at the Athina Studios and i must say it was one of the worst holidays i have had the displeasure to have. We had been there four days before the rooms were cleaned and the towels and sheets were changed. We had to purchase our own toilet paper as i think they thought that one roll would last a week. The staff were grumpy and to cap it all we used the sunbeds in our own apartments and were actually charged 3 euros each for the cushions and umbrellas.

We went with Cosmos and i would not recommend the rep was non existent. The departure was chaos with at least 4 or 5 different flights all arriving at the airport within half an hour of each other, we then got told that the booking in system was manual and to guarantee sitting together we had to pay 14 euros per couple, however there were plenty of seats together and names were not even checked to see if they were pre booked, i think the money must have been for the reps end of season party.

On a positive note there are a couple of things that we recommend, Castaways restaurant to eat in , the staff are friendly and the choice is very good and varied. And finally i would recommend Flocas travel agency and bar a family run business, Andreas the son and his parents were all excellent and looked after us with both drinks and car hire good luck with your wedding to hayley

and don't worry Yorkshire lasses are not that bad.

Andy F

We were not happy with the Athina Studios. Cosmos grade them as 3 diamonds but we don't think they warrant this grade. Maintainence is poor. The garden is messy with beer crates, tools and toys left lying around. The rooms are poor. Furniture is very home made, the kitchen area is old with no workspace, only one cupboard under the sink and two hotplates only, the bathroom was poor. The shower flooded the floor and the drain was above the surrounding tiles. The shower screen had a hole in it. The rooms are only cleaned once every few days (including emptying the used toilet roll bin!) and then not very well. The staff are generally miserable and unhelpful, unless you're a heavy drinker and spend lots at their bar. Even then the owner, who is long overdue for retiring, never breaks into a smile. To cap it all, they switched off the air conditioning (35 Euro a week extra) 2 hours before we were due to vacate the room, saying it did it automatically - which was not true.

On the plus side, the pool is quite nice, although my wife got an infection in a small cut after swimming there, which has still not fully cleared up after a month back home!

Do not confuse the Athina Studios with the Timotheus Studios (marked Athina on the Argassi map). The Timotheus are much much better and owned by the Stars Restaurant, which the Athina are definitely not.

Graham L
Just got back from Athina Apartments and found the staff to be unfriendly and the cleanliness to be poor. The thing that worried us most was the lack of fire protection and health and saftey in the rooms and around the grounds. As the electric cooking facilities are very old and sub standard ( which you will need to use to boil a kettle ) I wouldn't reccomend anyone going there. If you have already booked it may be worth checking on fire safety standards with your tour operator before leaving. Being in the building trade I have very grave concerns about this


Sian N

Arrived home last night from a week staying at the athina studios, reading the reviews before we went we were slightly concerned but have to admit we totally disagree, the island is a lovely place, argassi particulaly nice, the people are lovely, food was great, the studio was basic but all you needed when your off exploring every day. The pool was lovely and clean, but perhaps too busy during the day..recommend going in the evening when everyone else is having dinner! st. nicholas beach is great for all those keen to do any water sports, would suggest making your own way there its only 10minutes from argassi so going with rep was quite expensive and a long day! Water park was good but you really dont need to spend all day there..got very burnt and bored once you've done everything. We definitly recommend going there for a bargain holiday and suits most ages, generally seems a safe place we had no trouble what so ever and genuinely enjoyed ourselves. If you do anything u must rent out a quad bike...an absolute blast!!! oh yerrr!!!!!!

Michelle J

The Athina Apartments have now been taken over by Cosmos Holidays.
Kris M

Please note the TIMOTHEOS STUDIOS are different from the ATHENA STUDIOS. I worked in the bar last year at the Timotheos and had a fantastic time. The owners were brilliant, as were the majority of tourists - thanks for the nice comments :-) Rooms are basic, as with most in Zante, but very clean, and the Stars Restaurant is definitely one of the best on the Island. Won't be able to work this year until August, but looking to go back for Summer 2007! Kris

Lesley D
My daughter and I have just returned from the Athina Apartments after spending a marvelous week there. I must admit the room was basic but how long do you spend in it anyway. We thought it was clean and adequate, the cleaner came in every day and always smiled. The pool and bar area were clean and spacious and we did not venture too far away, except for shopping as we had everything we needed there, Chris the bar man/everything else man was great and nothing was too much trouble, it was also very reasuring to see the water in the pool tested each evening. We found the owners quite friendly and they always spoke when they saw us, we must remember they work very long hours in very hot conditions, one day the temperature was 49 degrees and they still had a smile. The apartments are very different to what they seem to have been, I would recommend another visit. We are definately going back next year, but for 2 weeks this time.

Leanne H

hi all,

me and my fiance have just come back from zante and we absoulty loved the timotheos studios,the room was basic but clean,the pool was nice and compact and the tuna salad was to die for and as for the owners we found them to be ok.and chris the bar man from edinburgh was very friendly.The studios are in a lovely quiet area and the one thing i liked the most is that there was no druken idiots in argassi and it is suited to couples and families who want a relaxing holiday. I would definitly tell people to go and stay at the timotheos,as we are going to go back next year.

Mark N
RE: BOOKING AT ATHINA we have just spoken to yanni at athina this morning and he has told us that athina is closed at the moment due to kosmar pulling out of argassi, he says that they are looking to go with another company but as yet they have not found one. will post again any further news if tour company has been found. the timotheos in argassi is not athina it is the stars appartments that have been there years.

Old M

We booked the Timotheos Studios through Manos in March, and they were unable to give us any details about the place. It subsequently transpired that they were the Athina apartments under new name, they are now taking the name of one of the brothers who own Stars Restaurant.

Having just come back from two weeks there and reading the reviews now, it is difficult to argue with some of them. It is certainly basic. The gaffer (vest man, BO man, serial killer eyes) is a bit on the sulky side, and Anastasia the gafferesse is more interested in the safety deposit box than she is in smiling or being hospitable.

That said, it wasn't overly busy, the pool was small but ok, I only got bitten around 20 times by the mossies, we only had one fly swarm infestation in the room, the one bed only fell apart twice, and the Harley Davidson photo above the bed didn't make us laugh too much.

Paul K
angus me old mate you will have a job trying to get back here next year as they have been dropped by kosmar do not no why stayed here 3 times in 5 years but if you know a way of booking for these studios next year for godsake let me know would like to stay here again
Angus M
well,no way was it as bad as all the snobs put it,but we will be back next august,and i intend to have a few more beers with yiannis and his dad,as we got on great!! snobs should be kept in england!!

Davie A
Hi folks, we have just got back from two weeks holiday at the Athina Apartments in Argassi, Zante.
We read some of the negative reviews before we went and were a bit apprehensive, however we really liked the place.
The location is excellent. A couple of minutes walk from the main street, but far enough away that there is no noise.
It IS basic, we had two mugs, plates, a fridge etc. The room was ok and the balcony was fine.
The pool area was nice and the food at the pool bar was excellent.
All I can say is don't expect the Hilton, but we disagree with the negative comments we read. We would go back again.
Also, the resort is excellent.....the restaurants and food are first class.....and value for money.....try the Premier restaurant. Also the Beer Academy is ace for that cool beer when u want to watch the footie. Happy holidays and Cheers the Athina.

Tracey
Having had a week to recover from staying at the Athina Apartments all I can say is they take the mickey out of basic. When we arrived the rep showed us to our room and was gone before you could blink!!! The room was not very clean and although it was self catering we had two mugs (one belonged in the bin it was cracked) one dinner plate a handful of cutlery and a saucepan. We had no table on the balcony and the beds might as well of been concrete doors!!! The shower leaked all over the floor when you used it and it was not clean - the toilet bin was changed twice in the week we stayed and the room was cleaned once. We asked if we could watch the England football match on the TV one day and he said NO and preceded to watch Greek TV or play video games all the time - heaven forbid it if you wanted serving. The older man only knew two words - `Three Euros` for the pleasure(!!) of sitting round the pool. We came back to the room onw night to find that the sink had leaked from underneath and they seemed to think we had done something to make that happen. After an hour (1.45am) they decided to turn off the water and told us that we could use the poolside toilet - they were dirty had no lock or light!!! The younger of the two men made it quite clear that English were an inconvenience and made no effort whatsoever. I understand that they are not in the brochure for next year so no-one will have to go through what we had to - several people who where there the same time as us had other problems and I am quite sure they will not be making a return journey. STAY THERE AT YOUR PERIL!!!!!!!!

Sara W
Just got back from a week at Athina Studios in Argassi and had a fabulous time. It was really close to the main street but far enough away not to hear any noise. The pool area was very clean and well kept, as was the pool bar which served lovely food and drink. The studios were very clean so i dont know what everyone else was talking about. The staff were not very chatty but friendly and only too willing to help if you had any problems. i would recommend it to my friends but it doesnt seem to be in the Kosmar brochure for next year. Anyone know why??? On a final note, if anyone is due to go to the Athina Studios and reads the bad comments on here beforehand like we did, then ignore them and dont worry. It is a lovely place and u will have a brilliant time.
Can U Help?
Sharon
does anyone know who is taking over the athina studios in argassi next year as you can not book to argassi at all with kosmar for next year!! does anyone know why????
Paul K
these apartments you will find them in the kosmar brochure
Can U Help?
Justine W
What travel brochure is Athina Studio,Argassi, in can anyone help
Pete
The athina studios are basic but adequate. They are cleaned regularly and more than other places i have been Greece is always basic. The accommodation is in an ideal location which is quiet but close to all amenities. The owners are lovely if you get to know them. Any problems are dealt with immediately and the rep was brilliant. Ignore all the bad comments these people should get a life. The athina has alot of repeat guests year after year.

Allison R

We arrived home from Zante on Sun 15th Aug 2004 after a weeks stay at Athina Apartments. We were told that we were in room 25 at the airport only on arrival to be told that we were in room 11. We were shown to room 11 by our rep who couldn't leave quick enough and told us to let the rep know at the welcome meeting that our room had been changed.
We immediately wondered what we had come to... the whole room smelt of urine and was filthy. There were huge yellow and black stains up the walls. The sheet on the bed was grey and full of holes. We didn't have a top sheet to cover us. The towels were also grey and full of holes. (I think they would have been better putting them in the bin!)The wardrobe stank. The bathroom was disgusting- the toilet seat was black and the smell from it made you want to be sick! The tiles around the shower were filthy. The cutlery was rusty and the utensils had old food on them.
We arrived early at the welcome meeting to speak to the rep who turned up after all the guests! When we spoke to the rep about our concerns she told us that she regularly did spot checks on the rooms and was very surprised at our complaint-as well as the complaints of our neighbours in room 12. When she inspected our room we were told the reason we had been moved from room 25 to room 11 was that everyone wanted a double room even though we had booked a twin because of the heat. The rep told us that she thought the accommodation was basic but adequate!! We told her we could do basic but not filthy, dirty!! She said she would move us because we had booked a twin and not a double!! Thank goodness. We were moved to room 26 which was an awful lot better but still not clean. I cleaned the room with cleaning wipes before I unpacked and certainly before I used the toilet!! Sheets and towels were changed only once during our stay and the clean sheets had huge brown stains on them- even dirtier than the sheets already on the bed!!!!!!!!
BOOK THE ATHINA-PLEASE DON'T DO IT!!!!

P.S. Argassi is a great resort with lots to do. The greek people are so friendly and you don't get any hassle from time share! The food is excellent- REMMEZO DOES THE BEST BREAKFAST! and there are numerous fabulous eating places on an evening,ETHNIC to name just one. Take your dancing shoes too as it is fun, fun, fun in the AVALON-make sure you get to dance on the bar!!


| | |
| --- | --- |
| Search for Athena Studios in all of JustZante & the Messageboard | |
More Hotels and Apartments in Argassi...

Admiral Hotel | Agoulas Inn | Anemona Beach Hotel | Apollo Hotel | Argassi Beach Hotel | Athena Studios | Captains Hotel | Castello Beach Hotel | Chryssi Akti Hotel | Commodore Hotel | Contessa Hotel | Danae Apartments | Diana Palace Hotel | Dora Studios | Edelweiss Hotel | Elea Hotel | Eleana Hotel | Family Inn Hotel | Hillside Studios | Iliessa Beach Hotel | Ionian Hill Hotel | Katerina Palace Hotel | Krinas Hotel | La Sirena Hotel | Levante Hotel | Locanda Hotel | Marie Mare Hotel | Meridien Beach Hotel | Mimoza Hotel | Mirabelle Hotel | Nefeli Hotel | Noula Studios | Palmyra Hotel | Papillon Hotel | Paradise Hotel | Porto Iliessa Hotel | Roula Kotsonis Studios | Seashell Studios | Timotheos Studios | Villa Denise Apartments | Windmill Bay Hotel | Windmill Hotel | Xenos Kamara Beach Hotel | Zakantha Hotel |