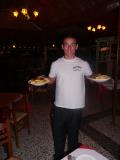 On my first visit to Alykes this is what I done, just walk by, then I prompted by my partner to try. This restaurant or grill bar will give you the best Greek experience in the resort, This is used by most of the locals and in some occasions we have been the only tourist in the restaurant, You feel you are in Greece and the setting over the salt lakes with views of the mountains are out standing, table two or three are the best views for the sun set and well placed.

What to eat, Good value meals with great service from the whole family, Even head chef and grill man gives you a good welcome, and when not to busy will come and chat, For couples they offer a wide range of meat, fish, vegie dishes, A meal with local wine and beer will cost around 20-25 euros, For families with young children are made to feel welcome with gyros and burgers are the best in town, For around 25-30 euros you eat really well. The good side if you just want a snack or a light lunch for one under 5 euros per person plus drinks. Children are on holiday they need to be free of home restaurant routines, here your children can walk about sit on the steps or garden with their burger and enjoy their own Greek experience.

Why do I recommend this restaurant /grill bar/ take away so much, From four years experience in this resort, with the service and value you can not get better. This is not a fast food take away this holds Greek values and tradition that you never forget or be forgotten.