Zante Beaches

Alykes Reviews
---
Zakynthos Guide
---
Local Directory
---
WalkAbout

Street View Style Tours
---
Zante Maps
---
Alykes Taxis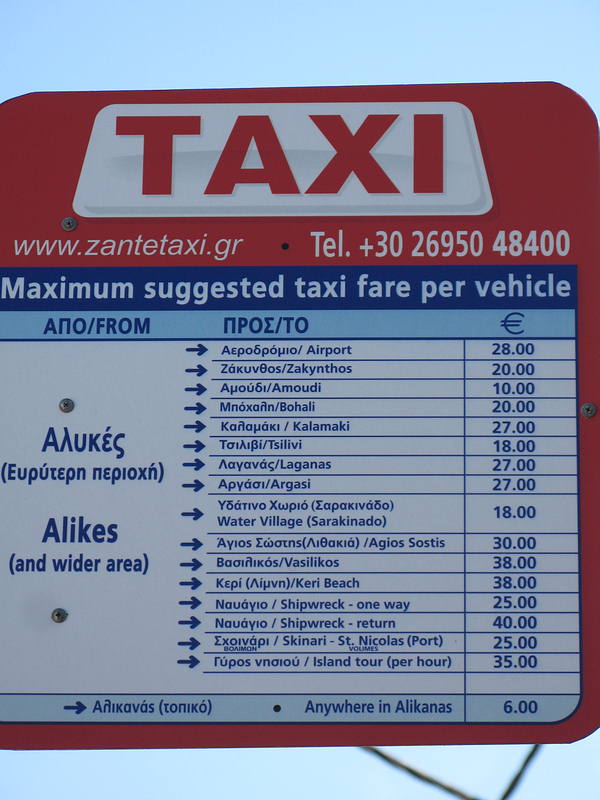 ---
Alykes Buses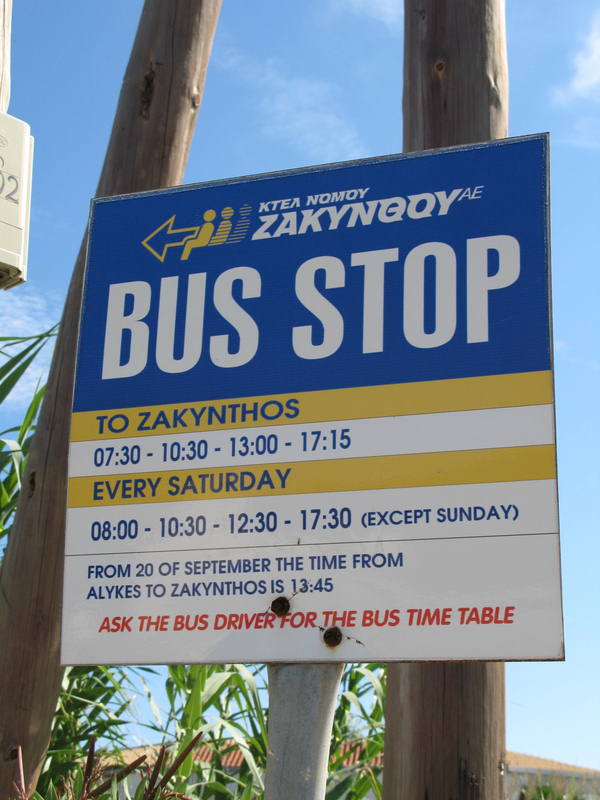 ---

+ Enlarge Map
Lofos Studios

(Accommodation in Alykes)

8/10
Derek R
Got home on 22 nd September after 2 weeks. Its changed hand the owners daughter runs it now a it's dead at the bar of an evening. The good thing about it is the new cleaner she is very good.
10/10
Derek R
I got back on Sunday 25th September after 2 lovely weeks at the Lofos the big improvement was aircon. The whole place has been re-decorated. But the cleaner leaves a lot to be desired which is a shame one day she only changed the rubish bag on another she left the floor so wet I skated across the room. Breakfast really set you up for the day.

1/10
Steve G
We are sorry to have to report that after having spent a week at the Lofos that we were really disappointed with the place. When we finally arrived after been delayed for several hours we went straight to bed, however we didn't get to sleep for very long when the loud music coming from the pool bar woke us up. There was food etc in the cupboard and fridge from the last occupants so as to weather the room had been cleaned prior to our arrival is questionable, the bath and sink were also dirty, so we asked to be moved to the other building, which the rep sorted out for us. In the second room the standard of cleanse rose slightly, however the room flooded every time the bath was emptied, this wasn't too much of problem except that the towels were never changed, I did however find clean towels on the washing line. The day the cleaner was in I had a look at the cleaning stuff to find something to clean the bath myself , all she had was a very dirty bucket of water and a very big smile ( lovely lady) . We did purchase some cleaning equipment and cleaned the cups and plates ourselves. The walls of all the apartments were smeared with dead incests and blood from previous mosquito attacks. The balconies were never cleaned the whole time we were there and another resident said she'd been there 2 weeks and hers hadn't been cleaned either, the flies and ants were gathering. They electrics were a bit frail, our light socket was held in by a pen, the bedside light flickered all the time and one of the plug sockets was hanging off the wall. The pool area was ok, but a charge of 1.50 for the sun bed cushion caused a lot of people to go out for the day, the pool filter was only turned on once the whole time we were there and there were a lot of incests floating in the pool all the time. We didn't eat at the bar at all as we didn't trust their hygiene standards but others did, two of them were ill while we were there, but the local doctor diagnosed them with a gastric illness. Our flight was leaving at 5 in the morning and we were been picked up at 2, we asked for a price to keep the room on and were quoted 35 for the pleasure, we declined and moved in with some friends for a couple of hours. Some people staying at the lofos had stayed a couple of years ago and said it was cleaner and a lot better them, its like the place has been totally neglected for the last few years ......

1/10
Steve G
Just booked a last minute booking for 23 September 2010 for a week as a surprise anniversary present for my wife, cant wait, hope its as nice as everyone says, will take lots of pics when we are there x Siobhan and Steve
9/10
Kirsty W

My family and I went to the lofos in july 2008 we all had the best holiday ever

Everyone was so friendly and took the time to talk with us. My daughter made friends with the managers daughter and misses her lots

We spent many nights eating out but also enjoyed eating in and also enjoyed the best full english fry ups

After looking at our family holiday snapshots we have now decided to go and visit the lofos again next summer WE CANT WAIT
10/10
Derek R

I got home on Sunday 27th September after 2 lovely weeks at the Lofos. Elias and his wife Margarita make a good team.The rooms were cleaned daily bedding and towels changed twice a week. I even had a few nice meals there and the prices were the same as in the taverna's
Pauline G

we spent our honeymoon at the lofos and we loved it,we ate out most nights until a friend told us to try the hotel food,it was to die for wonderful food and well presented,it was the 3rd time on the island of zante and we will return.local people are so friendly.room was cleaned every day and beds changed every two days.would recommend to anyone.
10/10
Unbilotitled

one word fantastic stayed here for 2 weeks last year and 2 weeks this year and its great, pool is excellent, food is supurb very friendly atmosphere great music cant think of no where better the perfect place to spend ur hols
10/10
Panagiota V

Just got back from staying at the Lofos for a week and its a lovely place. Elias and his wife are very friendly and the rooms are nice and spacious and clean. The pool bar offers great food at very reasonable prices. Didnt spend much time in the pool as it was a bit too cold for me this time of year but its a real sun trap for getting a tan.

Would highly recommend as its great value for money and a great location too. I will be going back to stay again.

10/10
Ian H
we just got back from lofos today and it was the best hol ever!!. i loved the barman ilios he was so friendly.i liked the other one who worked there too called lyddie.i also liked roberto coz me and my dad played volly ball in the pool with him.we met loads of friends there and would defo go back ther agen.the atmosphere is nice coz it is a quiet place but there are still people to talk to.the food there is amzing!!!!!!!!!!. try the pizza it is gorgeous.it is a lovely pool coz it isnt crowded.not many people use it but is is lovelly.nice rooms aswell.i would defo go back there next year if we can.!!!!!!!so sad we had 2 come home

ian's daughter kelly!!!

10/10
Michael C

What a cracking holiday! Hello to Dave, Jackie and Aiden who stayed at the Lofos hope you had a great hol! If anyone is considering visiting Alykes I would deffo reccommend the Lofos, food and drink is excellent only prob really is there is no air con and the cleaner is rubbish! Illyas the barman was a top bloke and his wife is great cook. Hope to see everyone again!
7/10
Dave M

A great location, but boy do they need to understand the meaning of cleaning!

The pool did not get cleaned once in our two week stay, which is exactly the same as the bathroom. If you do not mind swimming with wasps and whatever else decided to drown itself during the night then you will have fun!

Reading the previous reviews I can only guess that they have decided to cut costs (the place is up for sale) which is a shame as they are real nice studios although they do need air conditioning!
10/10
Jane A
pauline yes there are dividers between balconys hope this helps
10/10
Jane A

hiya to all we met last year,Kate,Steve,Viki and Kim and of course Joolz,Paul,Ros and boys. Kate will be in touch to get email adress then i can send you some photos. As you can see we are finally on line hooray!
Pauline G

on the first floor does it have any dividers between studios on the balcony...thank you.
Pauline G

hello all,ive booked a 2 week stay at loftos in may as my honeymoon,after reading all comments i cant wait.we have been to argassi for our first hol abroad which we liked then we went to laganas which was too noisy,we wanted a quiet hol cant wait,i will post pics after honeymoon...thanx pauline
Irvin H

We will be staying at Lofos this July. We have visited Zakynthos three times in the past, but this is our first time at Alykes. If anyone is staying at Lofos in the early season, could you please leave comments about what we may find, such as the quality of the pool and if Air Con is available. Or maybe a contact number or email address. Thanks.
Julie I

Hello Steve and Kate and Vicki and Kim....tried e-mailing you a couple of times but Postmaster keeps sending them back

. Hope you are all well..and Yes Paul has still got the you know whats
Steve S

hi ya joolz how are you all not sure what its like where you are but we have patio doors open like to say its like being at the lofos but no ,but i am in shorts with a beer though

kate not another one well you have to it was great meeting you all does paul still

have you no what

kim will kill me will put one of vicki when i can find one

see ya steve kate kim vicki
Julie I

I know the pic is small..but theres the little house all us girlies are fighting over

. I'd painted it and decorated it and done the garden in my minds eye..whilst sweltering on the sunbeds..and having a nice G & T in the shade!! Aww..TAKE ME BACK!!

JOOLZ
Julie I

Wasn't staying here..but used the pool loads and the bar..and ate there as well!! Food was delicious with genorous portions..and the drinks reasonably priced!! A proper sun trap tho..and we were there mid August..so spent a lot of time in the shade...near the bar

JOOLZ
Jenny
Sorry but think the house is mine as have just spent my third holiday at Lofos. Hope you are well Kate and Steve, we enjoyed our 2nd week after you'd gone, weather stayed hot so spent plenty of time in the pool and the sea. Although it all seems a long while ago now that Autumn is here, still there's always next year......

Jenny
Kate S

Hi Joolz, it's good to hear from you, we had a really good holiday too 11 out of 10, want to go back asap.

Sorry to tell you this but you will have to fight me for the house opposite the lofos, if I will the lottery first then it's mine, but i'll let you visit!

Kate, steve, Kim & Vicki

Julie I

Hello Kate and Steve..its Julie..the one with the leopard skin hubby!!!

Was really nice to meet you whilst in Alykes in Aug/Sept!! We used the Lofos quite a lot..as our accomodation did not have a pool..although we did have the sea on the doorstep

Was a lovely place..with loads of sunbeds and a lovely pool!! It was VERY hot when we were there..and The Lofos is sadly lacking in breezes

..so several G & T's and Mythos's were consumed in the shade when it got too much..which was practically every day

Helios? and Marcella were very friendly hosts and food served at the bar was yummy!! There are only 11 rooms...so it always felt like home from home..even tho we weren't actually staying there!!

10 out of 10

Btw we gonna buy that empty house opposite

If we win the lottery

Joolz, Paul,

Roz, Scott and Shaun!!

Kate S

Sorry there isn't any air con at the Lofos, but they do have fans that you can hire on a weekly basis i think they charge about 12 euros per week. We were there for 2 weeks in August the best holiday We've ever had i'm trying to book up for next year! Kate
| | |
| --- | --- |
| Search for Lofos Studios in all of JustZante & the Messageboard | |
More Hotels and Apartments in Alykes...

Akis Studios | Alykes Garden Village | Alykes Park | Andreas Studios | Apollo Studios | Argiros Studios | Astoria Hotel | Beach House | Canadian Plaza Hotel | Clio Hotel | Emily Studios | Golden Dolphin Studios | Ionian Star Hotel | Konstantin Hotel | Koukounaria Hotel | Lagounaris Beach Hotel | Lofos Studios | Maria Hotel | Montreal Hotel | Nikos Studios | Panorama Studios | Paradise Apts | Piccadilly Hotel | Potamitis Studios | Pothos Studios | Roula Studios | Sea View Hotel | Sellini Apts | Soula Studios | Sydney House Apts | Villa Pouliezos Apts |