Zante Beaches

Kalamaki Reviews
---
Zakynthos Guide
---
Local Directory
---
WalkAbout

Street View Style Tours
---
Zante Maps
---
Kalamaki Taxis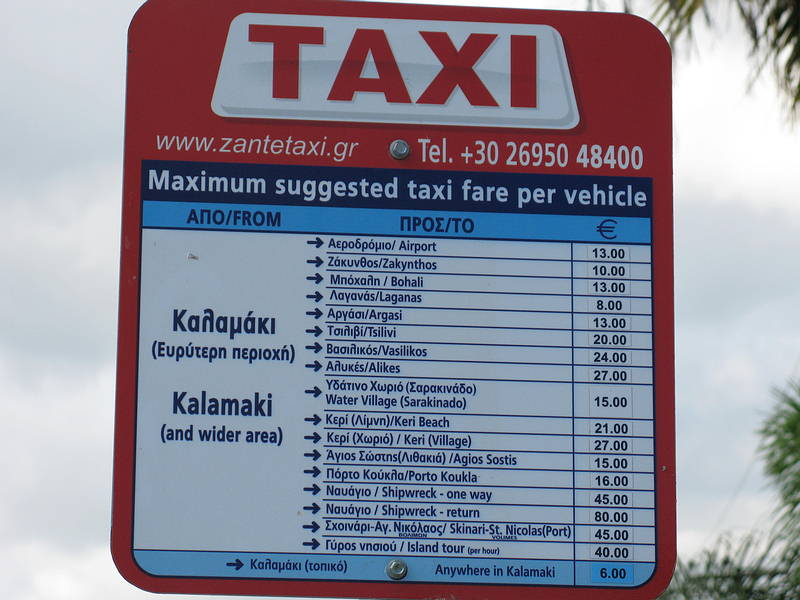 ---
Kalamaki Buses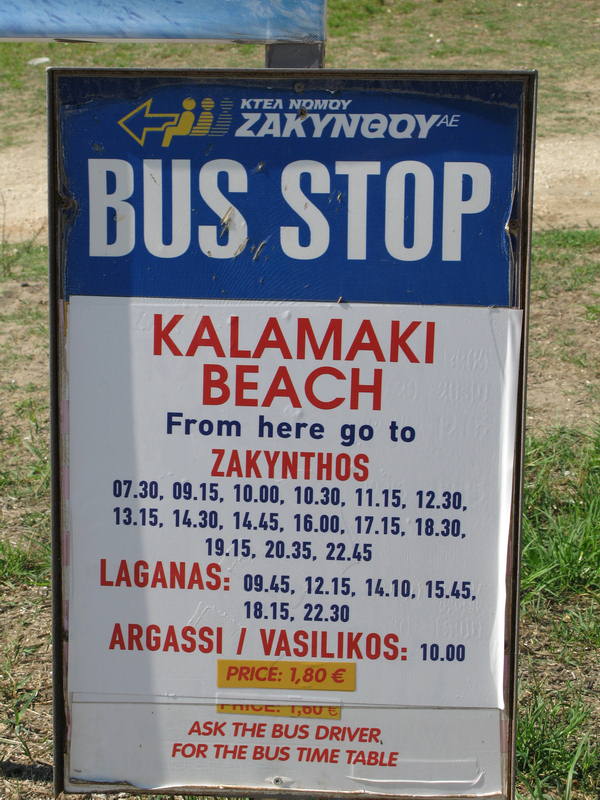 ---

+ Enlarge Map
Dennis I and II

(Accommodation in Kalamaki)

Chris P
Be very careful as the Denny 1 & 2 are different from Denny Apartments. The Denny apartments are run by their owner Denise and there are only 16 studio/apartments. They are quiet, basic but very clean and Denise is a perfect host. They are just off the main so very accessable to bars and restaurants.You can use the pool next door where the Greek family are very friendly. The Dennis 1 & 2 are further away from the main area, (about 10mins walk) towards the beach. We have stayed in Denny Apartments and they are really good value for money.
Julie A

hi, im wondering if anyone on this site can help me, we are looking at coming to kalamaki on the 11/8/08 until the 25/8/08. we wanted to stay at the dennis 1 and 2 apartments as my mum has been before and she loved it there will be myself my husband my mum my daughter age 14 her friend age 14 my other daughter age 5 and my son age 2 please could you email me asap, thank you.....

Stacey S

I've just come back from Kalimaki and I am pleased to say the weather was fantastic. I stayed in the dennis 1 Apartment and it was very spacious. It was a two bedroom app although we didn't use the second bedroom. Each room had there own balcony. It had a kitchen with fridge which was helpfull keeping drinks cold etc. It had a tv aswell which was mostly in greek but occasionally they had english programs on such as Lost and Pearl Harbour which had greek subtitles. There was no pool but You could use any other hotel pool as long as you bought drinks form them. We only ever used the beach, which was a 10 minute walk. It was very quiet except you got the planes coming and going and you can see airfield from the bedroom window. The owner's were lovely and came round to clean twice a week. The owner's also had a pet cat that we found on our balcony a couple of times. She had 2 little kittens and they were lovely. I would reccommend it to people.

Del P

JUST COME BACK FROM 2 WEEKS OF BLISS.APARTMENTS AT DENNIS 1 MUCH BIGGER AND BETTER EQUIPED THAN MANY WE HAVE STAYED IN,AND CLEANED ON A MORE REGULAR BASIS.IDEAL LOCATION FOR BEACH ,GOOD BAR ON THE CORNER,THE IGUANA,DOES CHEAP BAR MEALS AND BREAKFASTS.
Nikki C

WE STAYED AT DENNIS APARTMENTS IN AUGUST 2004 AND IT WAS WONDERFUL, WOULD RECOMMEND THIS HOLIDAY TO ANYONE, THE APARTMENTS WERE GREAT AND THE OWNER IS LOVELY (BROUGHT US FRESH FIGS TO EAT NEARLY EVERY MORNING) YOU CAN US THE POOL NEXT DOOR AT THE DIONISIS AND TONIA STUDIOS , BUT YOU CAN US ANY POOL THEY DON'T MIND AS LONG AS YOU BUY A DRINK!. I AM REALLY ENVY OF ANYONE GOING TO ZANTE THIS YEAR AS I AM NOT ( WE ARE TRYING ALICANTE INSTEAD) BUT WILL TRY TO NEXT YEAR. HOPE YOU ENJOY YOUR HOLIDAY AND I BET YOU RETURN!!!!!!!!!!!WELL DONE ZANTE
Chris C

The apartments are excellent, you can use the pool at Exotica or Venus (1 min walk away) or any that you fancy, they are set back but 3 mins walk from the main strip which means they are nice and quiet. They are also spacious and very clean, you will love it here!
Vikki F

was clean n tidy, very basic, but had everything we needed close to everything but far away enough to have some peace. 10mins walk if that to the beach, 5 mins to shops. airport very near but didnt really bother us.
Chris C

a view from the excellent Dennis II flats
Diane B

Came back from Kalamaki on July 7th. Stayed at Dennis I, we stayed in a 2 bed apartment. There was plenty of room, there was only 3 of us. It was very clean and quiet, apart from some aircraft noise early some morning's and the mozzies. We had our own balconies but the studios share theirs.

Loved every minute, especially watching the cute dog in the apartments opposite!!
Chris C

Jackie see the `hints and tips` section on the messageboard, I`ve also answered some of your questions there, anything else email me on ultrasound@supanet.com

Chris
Can U Help?
Jacqui W
Hi there, we have booked two week`s in september at the Dennis 11 apartments in Kalamaki. We have not been to Zante before and have no idea what to expect regarding the accomodation. Anyone who has just returned could you please let us know if there is any safety deposit boxes and if the apartment`s are clean? Which currency is best to take to zante? Should we take euro`s or traveller`s cheques? Are there many ATM`S in Kalamaki? Thank`s Jacqui
Abigail P
Real nice real clean but real hot! See you soon peepz!
David F
Came back 7/10/2004 my wife and i had a great week. Being the 3rd time back to zakynthos. Made many friends, and will be relocating in the near future. The island is a great place to be beats dull old UK.
Margaret G
I have booked for 2 weeks at Dennis apartments. Not sure which I will be staying at just yet. I will arrive in Kalamaki next Thursday 7 October for yet another blissfull holiday on the Greek island I now call my second home. Looking forward to seeing my old friends on the island once again. I will write what I thought of Dennis apartments on my return home 22 October. I hope the weather is as perfect as it was last October. In May of this year I stayed at Dimitras in Vasilikos but althought the location was very peaceful I missed all my friends in Kalamaki. See you next too in October Dimitra.

Chris C
now i`m back i`ll post a bit more, the flats are lovely, just down from the Exotica Hotel, loads of pools you can use, Venus was always busy and also I used Exotica`s, both very nice.

Lovely family, cleaners came round every 2/3 days (often I wasn`t back till 6am so tended to overlay though, my fault though!), not ONE mozzie bite as the grounds are well kept, nice and cool at night.

I`ll reiterate, the NICEST flats I`ve had in 9 visits!
Chris C
I`m here now and can I just say these are the nicest flats I`ve had in Greece in 9 visits, absolutely spotless, new kitchen equipment and good location, so anyone coming out you`ll be very impressed.

Fantastic!
Helen G
hi everyone, did n e one probably girls! meet a group of lads that are stayin here from 14th to the 28th of augus, they were from london, 17 to 20 years old and there names were Ben,Shane,Allan,brad and john? all have mopeds? if n e one have met these lot let me kno! fanx lol x
Jo T
We stayed in DennisII just come back we had a downstairs two bed apartment and thought it was excellent. The cleaners came in 3 times a week and this ment we needed to be out of the room for them to clean but that wasn't a problem. the pool we used was the Souli pool about 5 mins away but use any pool you fancy they don't mind as long as you buy there refreshments there fine. These apartments were very clean and the only problem we had was on occassions the people above us didn't consider they had people below them but thats life i suppose!
Can U Help?
Chris C
thanks, any more info you could give would be much appreciated, eg security etc and best pool and shop nearby!
Abigail P
A beautiful environment to be in and a birlliant base for those who like to
explore the surroundings. It is comfortable and easily accesable although
there is a longish walk to the beach but the village shops and restaraunts are
just yards away...
Can U Help?
Chris C
Anyone that`s been I`m going to be in Dennis II soon, what`s the best pool nearby and are the apartments secure? any safety boxes or anything too? cheers!
Dean S
it was ok but could have been better friendly people there i whent on the 20,7,03 and come back on the 4, 8,03 i met a girl that was 18 that was fit as hell but sadly i did not get her number her name was (LISA)(SHE IS FROM PERTH)if you know her number or add email it to deano362236@aol.com



Can U Help?
Anne L
Does anyone have any comments on the Denny Apartments in Kalamaki?
Alexia C
Stayed at Dennis 2 5-19 June 2003. Had a 2 bedroom apartment and it was great, really spacious and clean. There was a heatwave and we had to hire fans at 1.50euros a day we thought this was reasonable. Apartments cleaned every 2 days with clean towels and sheets 2 times a week. We went to the Scorpio Pool about a 5 minute walk away. We would recommend these apartments for a family. Thanks Dennis and family for a great holiday.
Can U Help?
Alexia C
Going to Dennis 1 in june 2003 can some please tell me if these are the same apartments as Denny's which are beside the scorpio bar
| | |
| --- | --- |
| Search for Dennis I and II in all of JustZante & the Messageboard | |
More Hotels and Apartments in Kalamaki...

Aeolos Resort | Amaryllis Hotel | Anagenessis Village Hotel | Antonis Apartments | Asteri Studios | Athina Apartments | Bitzaro Grande Hotel | Bitzaro Palace Hotel | Caretta Beach Hotel | Cavo Doro Hotel | Costas Hotel | Cronulla Hotel | Crystal Beach Hotel | Daisy Apartments | Dennis I and II | Dennys Inn Hotel | Dias Studios | Dina Studios | Dionysis and Tonia Studios | Exotica Hotel | Garden Village | Golden Sun Hotel | Ionian Blue Hotel | Island (Caretta) Hotel | Kalamaki Beach Hotel | Kalidonio Studios | Klelia Hotel | Louros Beach Hotel | Macedonia Hotel | Marelen Hotel | Meandros Hotel | Metaxa Hotel | Muses Villas | Nadia Studios | Plubis Studios | Rainbow Apartments | Roseland Hotel | Sea View (Caretta) Hotel | Sirene (Dollas) Hotel | Sirocco Hotel | Sofias Hotel | Star (Caretta) Hotel | Two Brothers Studios | Vanessa Hotel | Venus Hotel | White House Apartments |