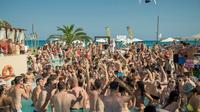 Make the most of your week in Zante — one of the best places to party in the Greek islands — with this 7-day events package. Comprising DJ-soundtracked club nights, glow parties, free bars, VIP bottle nights, and other commemorative goodies, it's the simplest and best way to ensure you enjoy a full week of non-stop revelry during your getaway.
Experience the very best of Zante's famously wild and colorful nightlife with this comprehensive party package. Upon your arrival in Zante, meet your representative at a specified pick-up point, where you'll receive all of your necessary tickets for the week, as well as commemorative gear.
This essential package includes entry to some of Zante's hottest parties, including Zante Live (held every Tuesday night at Rescue Club, which features world-famous DJs and musicians), Glow Party (held at Rescue Club, which invites you to party the night away 80s style), and Paint Party (one of Zante's most-attended events, which combines hundreds of cans of paint, thousands of revelers, fabulous DJs and drink deals).
A VIP wristband will also grant you free entry and discounted bottles during the Zante Strip's VIP Bottle Night, a 3-hour free bar at PartyO on Thursday, and entry to other parties and events. You'll also walk away with a commemorative Party Hard Summer 2017 t-shirt.
Don't forget to pre-book: not available in resorts, this event package includes coveted discounts and access to top events, and will sell out.
£99.00 Check Availability on Viator