Zante Beaches

Laganas Reviews
---
Zakynthos Guide
---
Local Directory
---
WalkAbout

Street View Style Tours
---
Zante Maps
---
Laganas Taxis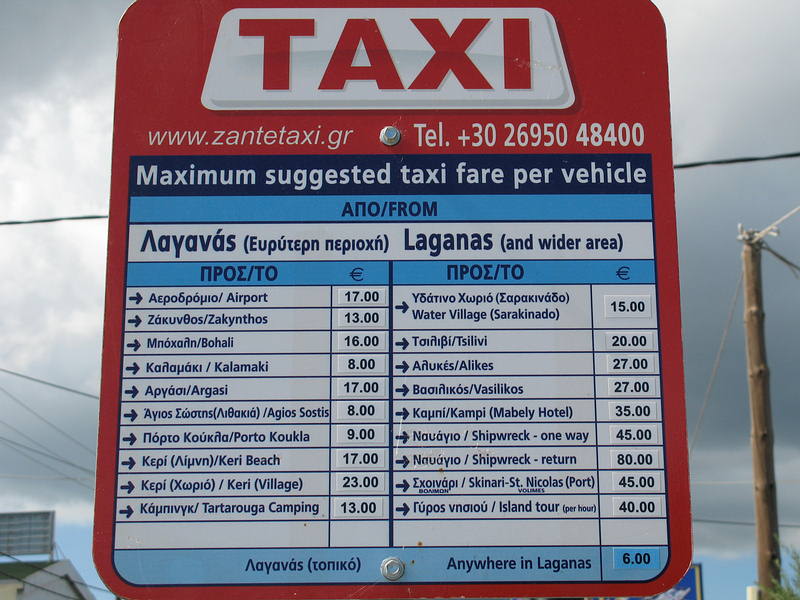 ---
Laganas Buses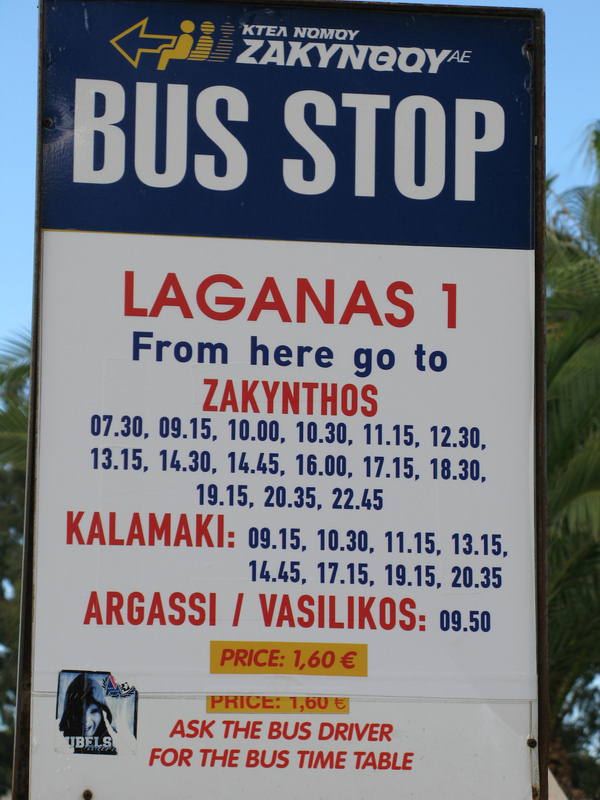 ---

+ Enlarge Map
Dimis Hotel

(Accommodation in Laganas)

Wendy D
This hotel is very basic to say the least! Dont look at the filthy mattresses! Self catering but no cooking facilities or even a kettle! Nothing! No shower head holder or curtain and mainly cold water as only warm at certain times! The rooms were In need of a lick of fresh paint as were the tatty beds with old brown wood showing through the chipped off paint! Broken furniture on the veranda which was unusable so couldnt sit out on it! Was there a week and not cleaned once! No fresh sheets or towels provided! When requested staff convenienly couldn't speak english and told tomorow! Every day was the same! Tomorrow!! We gave up in the end and went and bought some of our own! The manager was very ignorant and very rude told us if we carry on complaining we could go sleep in the street!! We were also broken into and had valuable cameras and phones money ect taken along with 6 other rooms to be told no help! Ring police yourself which we did to be told no English and need interpreter which the hotel would not supply so got nowhere with that! They just were not interested and very ignorant to all the victims so we gave had to claim on our own insurance when we got home! Loud music from morning till early hours which is ok usualy but baseline and dance music through the day is hardly relaxing by the pool music! We went out every day and night just get away from it! The pool and bar area are this hotels only saving grace! Avoid like the plague unless your 18-25 and want to party day and night and never sleep not for families and definitely no children they would be scarred for life! The resort is great and the island is beautifull but Dimis is a horror story

2/10
Jamie J
Would NOT recommend staying here, the room was extremely basic. The toilet leaked and the sink was constantly blocked. I informed reception twice and still nothing was done. The chap with glasses that works through the night had NO customer service skills, he was rude and no help at all. The pool area was really nice and that alone made the hotel bearable for the week. Very disappointing. Also 7 euros a night for air conditioning was a bit over the top.

5/10
Jen M
Mixed opinions about this hotel...Some aspects are good, and the overall stay was good; however, a number of bad points aswel... Arrived very early morning at the apartments and were quite shocked at the lack of security in your room! The door could be shoved open (as you cant lock it from inside), the bathroom window had no handle or lock on so was constantly open, and the balcony doors weren't the most secure!! So i would definately recommend paying 10 euro's a week for the safe to get all your valuables in! We literally died from the heat as we didn't have air conditioning due to the price! There was only 2 of us and it was 7 euro's a night meaning that for our 2 week stay it was going to cost us 100 euro's! Rip off!! Dogs bark literally ALL night long, the pool side bar plays loud music until late and then the music starts again early morning meaning you're up pretty early! Food at the pool side bar is very good and available all day and night at pretty reasonable prices. There are 2 pools; both of which are good. The room is pretty basic but on a holiday, you're not in it too much anyway, however throughout our 2 week stay, it didnt get cleaned ONCE! A cleaner comes and empties the bins each day but nothing else, and there are no cleaning appliances for you to be able to do it yourself so the bathroom and room floor were filthy by the end! The staff at the hotel are not friendly at all, so make sure you don't get on their bad side! The final bad point is that it is a trek away from all the action! It's approx 15 minutes walk to the strip (where the main restaurants/bars/clubs start) and then another 20 minutes from there to the beach. On the plus, it keeps you fit!! It sounds like I've slated the hotel which to be honest, there are a lot of bad things about it; however! we had an amazing holiday-maybe due to the people we met. Like i said, the pool area was brill and the rooms did the job! Oh also, make sure you shower before 8pm!!! Otherwise you will definately not get a warm one! We had many a freezing cold shower due to the hot water running out! If you want a cheap, good fun holiday, with a 2 good pools, a lively atmosphere and lots of people aged 18-25, then it's perfect, however if you're one for wanting a slightly nicer holiday, choose different accomodation!

1/10
Louise T

My friend and I stayed here last summer.

I would not recommend this unless you are someone looking for a cheap holiday and can not get reservations any where else. Our saving grace was hiring a car for the week to get away from it!

The hotel was poorly cleaned - the bucket they used to clean the floors (if they did clean them - we saw it on its own dumped in a corridor!) was so dirty it was dark brown and stunk!

The towels were white with many stains that you would not want to imagine.

The swimming pool was cleaned once when I decided to clean it myself for an early morning swim. If your looking for a quite place to stay away from the clubbing scene then this is not the place for you, the bar has constant music on all through the night until the early hours of the morning. The bar staff are friendly but the hotel staff are hard work to get anything out of. One passport is taken from you when you arrive and is what you think, stored safely until the end of the holiday when any memeber of staff unlocks the draw (key located by till - easily accessable) and you are presented with everyones passport to find your own one and maybe if you liked a few other guests passports if you fancy making some money! This scared me as I am sure you are aware a passport when you are on holiday is essential!

The location was ok for us as we had a car and you have a little walk to the main strip which is aout a 20minute walk. Unless they have improved dramatically in the last 10 months I really would not recommend this hotel to anyone who likes some living comforts. If you are unfortunate to be reading this after booking - take with you a duvet cover to sleep in and pillow cases of your own and a couple of towels. Happy holidays!

3/10
Hugh S

I stayed here last summer with a group of my mates, all lads. The staff were not friendly trustworthy or helpful in anyway. Angle the barman only spoke english when it pleased him, when it did not he would pretend not to understand such as when my trainers, moped helmet and camera charger all went missing. The cleaners personally I did not trust and took to locking anything of value up in the safe provided.

As for the location it is hardly central, a good 20 mins walk to first bar and then a further 20min to the main strip. we took mopeds out which created more hassle then they were worth. I would NEVER stay here again even if it was free.

half board was a joke! again Angle knew nothing of us paying for this! and air con is a certain necessity even at 60 euro's a rip off !!
9/10
Vicky C
hey i went there last year with my dad angel is a wicked bloke its so nice tht they are goin bk to stay there again this year !!!
7/10
Alan M

The spyros studios are fairly nice how ever dont be fooled by its so called CENTRAL LOCATION because it isnt central youll find yourself getting taxi's most nights at least taxi's too the centre then a drunken walk home!.

The staff here we found to be really friendly there is a young bartender guy called angle who is very funny & friendly too talk too and if you become friends with the maid she gives you extra towels and sheets.

nice place to stay as long as you dont mind the distance. Goin back too Zante next year but too a hotel in the heart of the action.!

Amy H
hey,

bin back from zante a week ago..... we stayed in these apartments again as we did last year and must admit that there has been a massive change since then they now have a pool and a bar (which opened while we were away) infact one of my m8s was first to use lol.

these apartments were ok for what we used them for as in sleeping and getting ready haha and the fact that most young people stayed here so we could c*m in at wateva time and not have moaning people around!!

matt sayer are you the lad we met wen u arrived on the friday and we used your room to get ready in if it is hello and did u have a good holiday ..... also thanx for letting us use your room hope we didnt take to much stuff with us wen we left ur room hahaha. did your m8 sort out his video camera (insurance?).

speak to ya soon ne ways

amy xx

Jamie A

Hey got back today we are GUTTED coming here to work next year though!these apartments are abit scabby but ok I hated the male owner though very rude and miserable I wouldnt come and stay here again!!!
Gary V

Hi Vicki, there are plenty of ATM's in and around the main strip. I used my Maestro/Switch debit card and visa credit card whilst out there.

Gary
Claire S

We stayed here last year and are staying here again when we go in july. The apartments are on the main strip itself but at the other end from the beach. Its not far up from the mini golf but on the opposite side.
Claire S

Just booked for Zante again! Same Place 20th july til 4th august 2006!! 8 of us this time! Bet Pedro and his wife cant wait-lol! Cant wait get back over there now, its goin b mad! xx
Claire S

We just got back from here yesterday! For how much you pay its good! Use paradise pool bar for definate, try the cheeseburgers from there- There heaven! I'd recommend that you only come here if your younger aswell. We were 6 girls with a group of 26 lads who stayed next door and all on our floor and we all werent getting in til 4 then stayin on the balcony til 6 in the morning and that. there were apparently other groups worse than us before so it looks as though its more of a young apts so families keep away!!
Matthew L

Fine for the moeny we paid for the holiday. Don't recommend unless you're in the younger crowd as many of us return at 4/5 a.m. and a few obviously cant help but make a lot of noise! Recommend going to use pool at Paradise rather than Dimis, a better atmosphere over there.
Claire S

Were all going 7th-21st July.. should be gud .. Where u staying?
Dan M

Hiya

When you going?

A friend stayed there last year and said it was good.

I am going July 10th -24th for 2 weeks with a mate

We are staying at another hotel though
Claire S
Has anybody been here?? wats it like
| | |
| --- | --- |
| Search for Dimis Hotel in all of JustZante & the Messageboard | |
More Hotels and Apartments in Laganas...

Acapulco Marinos Apts | Agrillia Hotel | Albatros Hotel | Alex Studios | Alexander Hotel | Alkyonis Hotel | Anastasia Beach Hotel | Andreolas Beach Hotel | Angela Hotel | Angela Hotel | Angela Studios | Aphrodite Hotel | Astir Hotel | Astir Palace Hotel | Atlantis Hotel | Blue Waves Hotel | Bluebell Hotel | Bona Vista Studios | Borsalino Studios | Bozikis Hotel | Cactus Hotel | California Hotel | Canadian Hotel | Castelli Hotel | Christina Studios | Dados (Jimmys) Hotel | Denise Beach Hotel | Derekas Studios | Dimis Hotel | Divina Studios | Dora Studios | Elite Studios | Ellenis Studios | Esperia Hotel | Eugenia Apts | Fantasy Apartments | Galaxy Hotel | Gardelli Resort Hotel | Garden Palace Apts | Gioie di Mare Hotel | Helen Studios | Hera Studios | Ikaros Hotel | Ilaria Hotel | Ilios Hotel | Ionis Hotel | Janno Beach Hotel | Karras Hotel | Kostas Studios | Laganas Hotel | Majestic Spa Hotel | Margarita Hotel | Mariana Hotel | Marios Hotel | Mediterranean Beach Resort | Megara Studios | Mon Repos | Must Hotel | Natalie Hotel | Nemesis Art Hotel | Olympia Hotel | Oscar Hotel | Pallas Hotel | Panorama Hotel | Paradise Apartments | Perkes Hotel | Pink Panther | Plaza Hotel | Portego Apts | Poseidon Beach Hotel | President Apartments | Prokopis Studios | Pythari Apartments | Razis Erieta Studios | Rose Club Apartments | Sarakina Apartments | Savvas Hotel | Sorrento Studios | Sunflower Studios | Sunshine Hotel | Tassia Studios | Trinity Hotel | Tzante Hotel | Villa Aliri | Village Inn Apts | Vivian Hotel | Vossos Hotel | Yakinthos Hotel | Zante Beach Hotel | Zante Doro Studios | Zante Park Hotel |