Zante Beaches

Argassi Reviews
---
Zakynthos Guide
---
Local Directory
---
WalkAbout

Street View Style Tours
---
Zante Maps
---
Argassi Taxis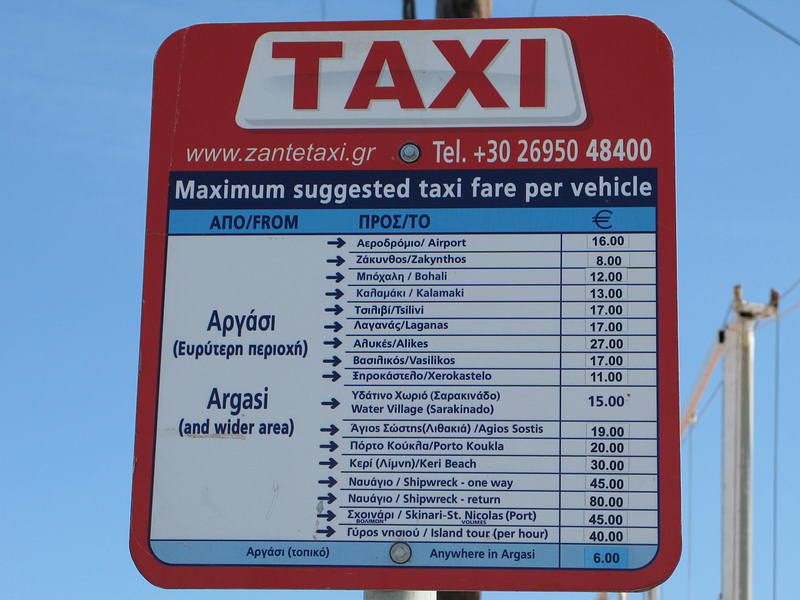 ---
Argassi Buses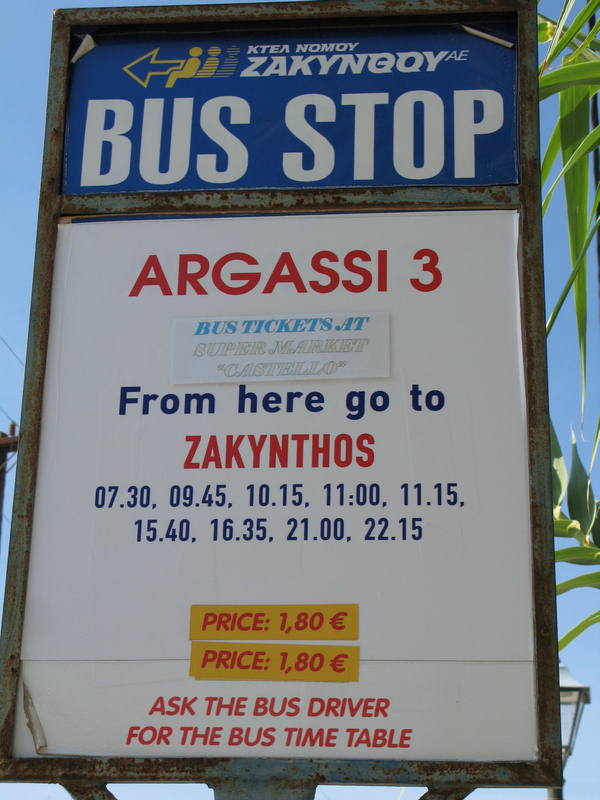 ---

Zeus

(Restaurants in Argassi)

5/10
Alfa (August 18, 2010)

Went in 1 night when it was a bit quiet, the staff were very helpful & friendly. I had the gyros plate & my partner had spaghetti bolognese. I have to say that unfortunately my meal was the worst Gyros I have tasted, the tzatziki was very bland & the pork looked like it was sliced, sandwich type packet meat & my partner was not impressed with her meal, she thought the sauce tasted like it was from a packet. Sorry folks the place looked nice & the service was pretty good but the food didn't live up to expectations & we won't be back

Frederique V (August 03, 2010)
we have been two weeks at Zakynthos, Argassi this year. we went eating at Zeus one time. we liked the food, liked the staff (the blonde, english lady was very funny!), but we especially liked the guy at the door! he is around 18 years i guess, has brown hair and brown eyes. he's very handsome, and i wanted to know his name. IF SOMEBODY KNOWS HIS NAME, PLEASE TELL ME! i would appreciate it! thank u

Mark J (July 30, 2009)

What a fantastic place great staff great food and wonderful hospitality, Have just returned from 2 weeks in Argassi and our visits to this lovely restaurant realy made our holiday the last night in Argassi was made even better by the wonderful staff at the Zeus restaurant who treated us as friends and not just customers. I would recommend that anyone visiting Agassi should make the effort to visit this restaurant and they will return for more fantastic meals.

Good luck to all the staff and best wishes Mark,Susan and Emma
10/10
Geraldine F (July 03, 2009)

What can I say. The best Restaurant in argassi. Just love the Lamb Wrap

Thanx again for the recipie will guard it with my life.

Hope to be back in September for more fantastic food.

Love Ger Elaine and Susan( The Irish Girlettes )

10/10
Ceri J (April 08, 2009)

Where do i start........ Adonis a true, true gentleman and a true friend to our family, always has time to stop for a chat, no matter how busy the resturant, we can honestly say that Zeus makes our holiday and being regular holiday makers to Zante, we can say one of the high lights of our holiday is seeing Adonis, Nicos, Gemma and everybody else again.... the food is superb and being a family of 5 it's always no problem to find something to please everybody although the chicken fillet orleans is always my favourite.... Looking forward to September when we can see you all again.... Love to you all...... Elaine, Graham, Ceri, Gareth and Ian (Sausage, Beans and Chips please Adonny) xxxx
10/10
Brian&elaine M (September 28, 2008)
were do you start,the guy at the door nicos,[ excellent] lass from cornwall top class,blond lass always has a smile,adonis
10/10
Valerie T (September 27, 2008)

Adonis & All his staff gave us the most enjoyable time whenever we used his restaurant.

The food and service was FIRST class each time we visited, we were made to feel very GENUINELY welcome.

I can reccomend the LAMB KLEFTIKO as being one of the BEST I had tasted on the island [ and I have tried a few ] also the Lamb Wrap is well worth a try. They also serve some brilliant " Home Made Yorkshire Puds" for those visitors missing the tastes of home.

We will definitely pay Zeus another visit when we return & look forward to seeing Adonis and staff in 2009.
10/10
Hajnalka K (September 15, 2008)

Actually, we were wondering why Zeus are not busy every night... Nice food, lovely staff, great service. Do not miss it!

Adonis is the kindest person ever!

Thanks for everything.

Hugs to Nikos, and the two blond ladies, too.

Hajni & Nora
10/10
Elaine M (June 25, 2008)

Great food and lovely staff

try the lamb wrap...oh my God delish
9/10
Colin B (September 10, 2007)

Simply the best beef stifado in Argassi.....desserts are all freshly made and come in HUGE portions. We dined there three times and were presented with a bottle of house red on our last day. Very friendly staff. Nikos the door geezer was a scream! Can't wait to go back next year.
10/10
Anne S (September 10, 2007)

Went here twice lovely food and nice staff
9/10
Natalie F (July 23, 2007)

The food was lovely, quite small portions (not too small though), so if you're a big eater i wouldn't recommend it. The man on the door is very friendly too.
7/10
Dawn S (May 31, 2007)
Almost every restaurant has a vegetarian section in their menu altho some only consist of a few options. Heres a hint tho - go looking at menus in the daytime then you wont be bothered with the PRs trying to get you into their place.

There are lots of places worth trying too.

Also we ate in the zeus near the end of our holiday - up til then they didnt seem busy at all but we werent disappointed the food was great and well worth a visit

David C (May 23, 2007)

hi,sarah the Zeus will prepare you a good vegetarian meal as will Ethnic just across the road.regards david
Can U Help?
Sarah F (January 04, 2007)
My hubby and I are due to visit Argassi later in the year - we've not been before. Can anyone recommend a good vegetarian restaurant for us to visit please?
Alan B (October 16, 2006)

Just came home today, went to zeus for our last meal. It was the best meal we had during our two week holiday. Spyros was a lovely man and we told him that we would be putting a comment on the website, as soon as we got home. The food was very tasty and the servings were very generous. Next year, we will be visiting most nights and trying a different greek dish. YAMAS to you all x x x

Steve M (October 14, 2006)
yet again thank you to all at zeus for the warm friendly service you give, the food was excellant prepared and served to the usual high standard and the facillities very clean. anyone going to argassi should add zeus to your list of places to visit for a good meal and pleasent company. we ate there everynight and tried a different dish each time the perch served with roasted vegetables was a dish to die for and quickly sold out, and for meat lovers the lamb wrap is superb, spag bol was cooked to perfection and the portions are generous. the lemon pie very tasty and so was the banoffee dessert. all this and a good price to. missing the island already will be back again next year about september time for the fifth year, so keep up the good food. antonis, spero and vasillis love you all. x. you get 10 stars from us

Laura C (October 13, 2006)

We loved it here. We had lunch and the guy who was working was lovely. He kept our young son entertained and even gave him a baseball cap (restaurant branded obviously lol). The food was delicious (we had saganaki and my son had meatballs and chips) and fast service. Well worth a try
Amanda B (September 22, 2006)
excellent restaurant, really enjoyed eating here, lamb stifado was amazing, best of all there was no pressure from door people to go in.would recommend to anyone, one of the better places to eat in argassi.

Phil C (August 07, 2006)

Ate there several times for lunch/dinner and we were so impressed by everything that we booked it for our wedding reception on 29 July. Adonis, the owner couldn't have been more accommadating, he gave us the balcony area to ourselves and supplied dedicated waiters. We informed him ofvthe dishes everbody wanted and on the day they arrived promptly and cooked to perfection. Adonis even gave my wife a big bunch of flowers! Go there, you won't be disappointed, I personally recommend the Lamb Wrap and the grilled haloumi, the moussaka is the best on the island! The house wine is fantastic too, coming from Adonis' village. Vassili, the chef is a genius, the banoffee pie was a masterpiece, everything was truly excellent.

Adonis, Vassili and the staff, if you read this, thank you so much for making our wedding day extra special and for your kindness and generosity, when my family and I return to Argassi we will definitely visit you again. On behalf of my wife and I you are a prince among men THANKYOU!!!

Steve M (July 06, 2006)
Hi all, missing you so much and the wonderful food that we are comming back in September to see you again. My family and i ate here everynight of our fortnight holiday and my father-in-law (who is a Diabetic had all his needs catered for) has only ever eaten english food anywhere else ate the Greek food from the menu and really enjoyed it he had a different dish each night. The menu this year has more to offer and is cooked to the highest standard by a wonderful Chef, i would recomend the Lamb Wrap, Roast Beef served with a wonderful sauce, Stuffed roast pork, to many to choose from my mouth is already watering and the desserts are heavenly to and all freshly made. The service was wonderful and the food hot and well presented. The atmosphere is friendly and a warm welcome is extended to all. Love to you all and keep up the good work till we see you again.x x

Darren C (June 30, 2006)

Food was ok but starter was bit bland (grilled feta cheese)

Staff at front too pushy to get you inside, don't be fooled, it's not nearly as good as they say!

Service inside was good and efficient, breakfasts are nice.
Robin B (June 13, 2006)
I highly recomend this restaurant. I have just returned from a two week holiday in Argasi, my wife and I ate here every night. Antonis and his staff were very friendly and most welcoming. The standard and quality of the food was superb, in particular the meat dishes were done to perfction. I am coiliac and Antonis looked after my dietry needs 100%. 5 star for me............
Can U Help?
Steve M (June 09, 2006)
please reply
Steve M (June 09, 2006)

getting excited anniversary 20th 25 years, your birthday, mom's birthday 27th and steve's birthday 30th party party party!!!!! looking forward to being with you all for these celebrations. see u on the 18th keep a table for six with a sea view please, and i hope the chocolate fudge cake is still as good. love to you all. steve and lynne xxx
| | |
| --- | --- |
| Search for Zeus in all of JustZante & the Messageboard | |
More Restaurants in Argassi...

24-7 | After Creperie | Athina | Blue Blue | Dionysos | Double | Edem | Elena | Erato | Ethnic | Flocas Cafe | Granada | Green Frog | Gusto | Gyropolis | Ilision | La Dolca Vita | Palmyra Restaurant | Palos de Moguer | Papillon | Peppermint | Piccadilly | Poldos Place | Portokali | Poseidon | Rubys | Sala Ristorante | Simply Greek | Snack Academy | Stars | Street Bakery Cafe | Target Bar Taverna | Three Brothers | Yamas Tapas Bar | Zorbas |